🏁 Getting started
📗 Terminology
Fiat: traditional government currency like USD, GBP, or EUR.
Sat: short for satoshi, the smallest unit of bitcoin. 1 BTC = 100 000 000 sats.
Verifying Your Account
As a regulated financial services company, we have to verify your identity. Just snap a photo of your valid driver's license, passport or national identity card — and a quick selfie! — and you'll be on your way.
If we need more information to verify your identity, we'll ask for another form of ID or proof of address, such as a bank or council tax statement from the last 12 months.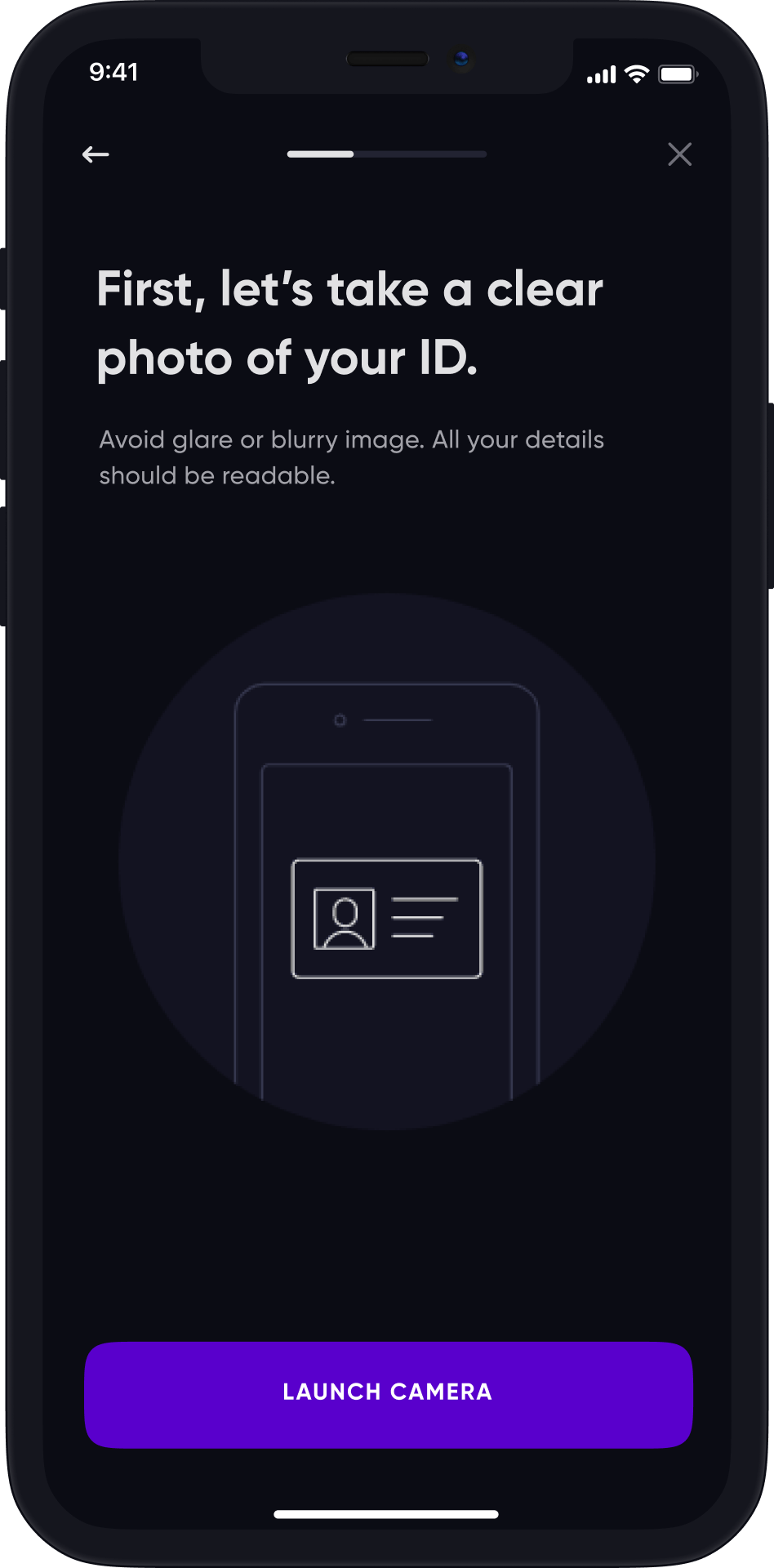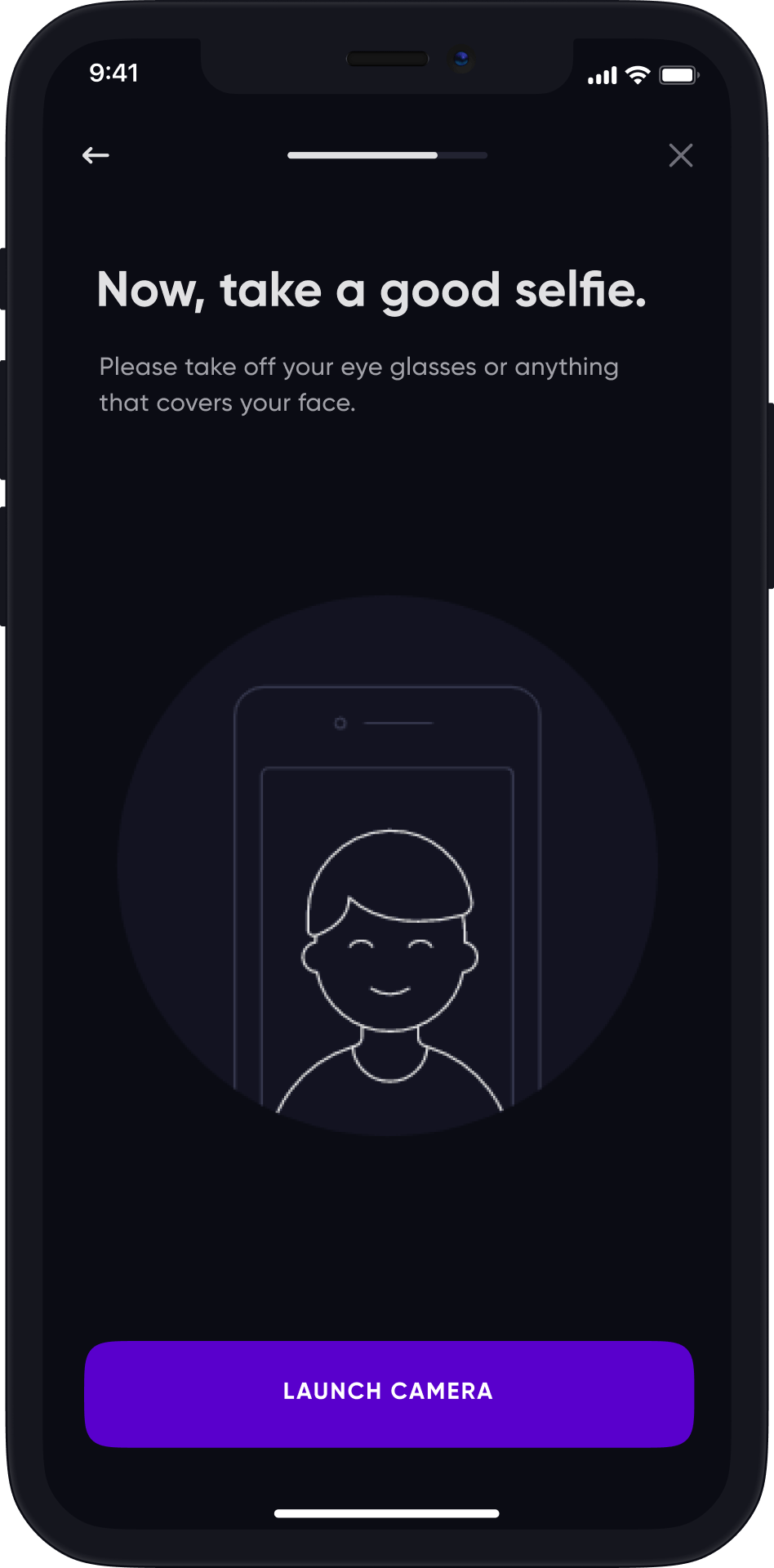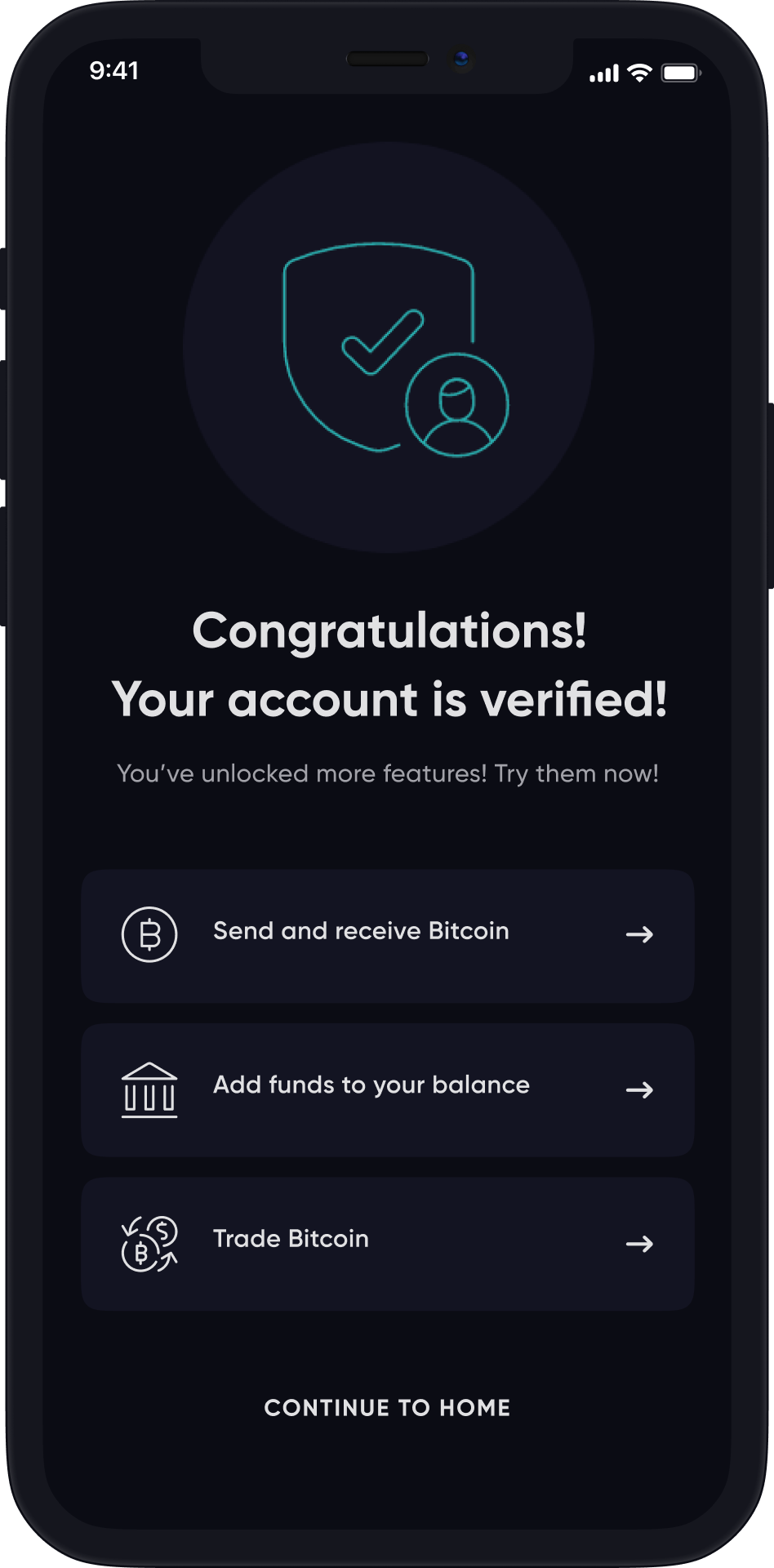 Verification process steps
Navigating the app
a. Home Screen
Once the verification process has finished, you'll be back at the home screen. Here, you can:
Check your balances

Add funds to your account

Buy and trade bitcoin

See your recent transactions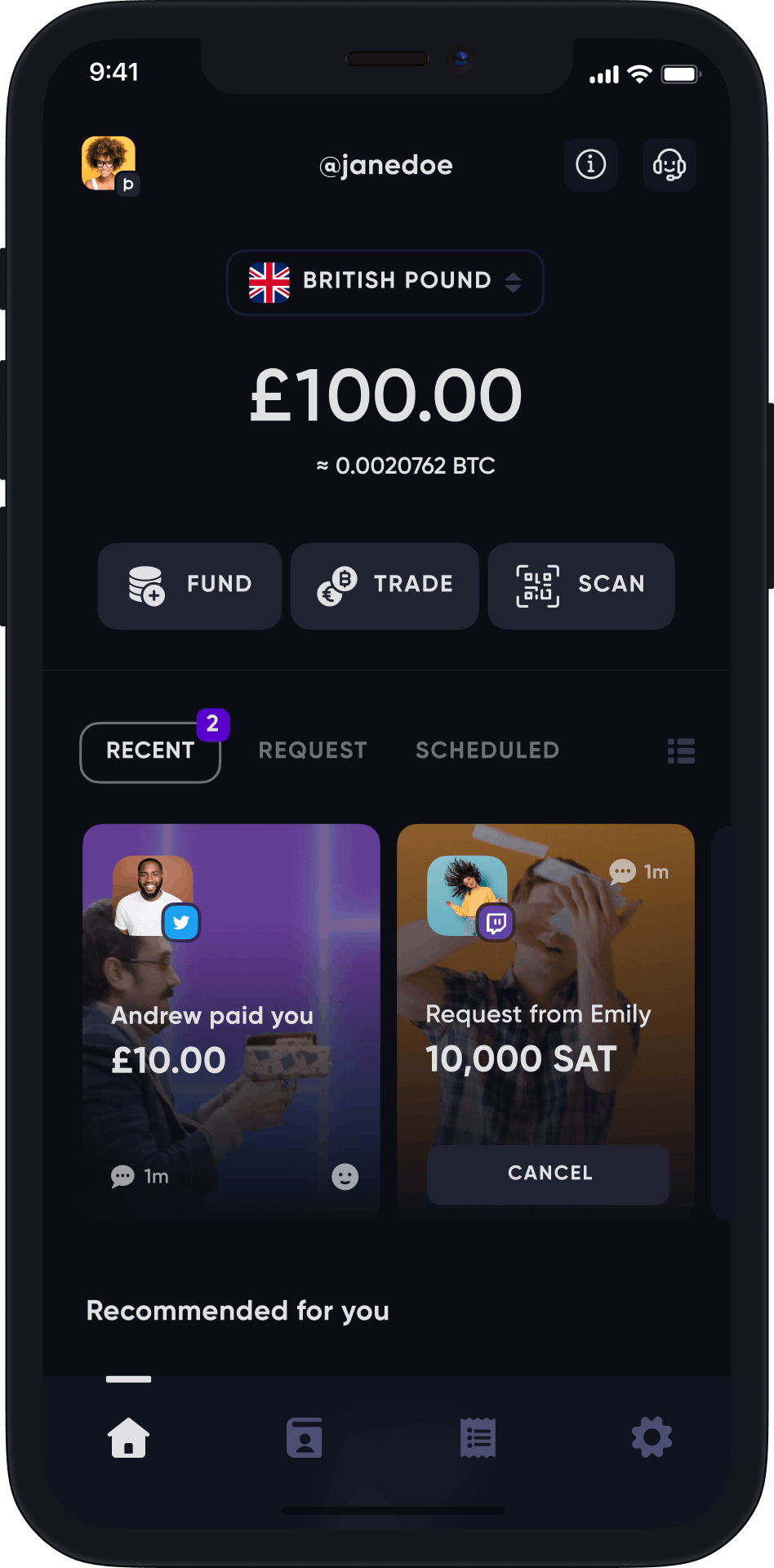 Home Screen
On the top-left, click the profile button to link your social handles and check your BTC and GBP balances. To complete an app tour
or contact customer support
, tap the appropriate icon in the top-right corner.
By clicking the contact book
at the bottom of the home screen, you can add contacts
by their:
Phone number

Social network handle

Searching past transactions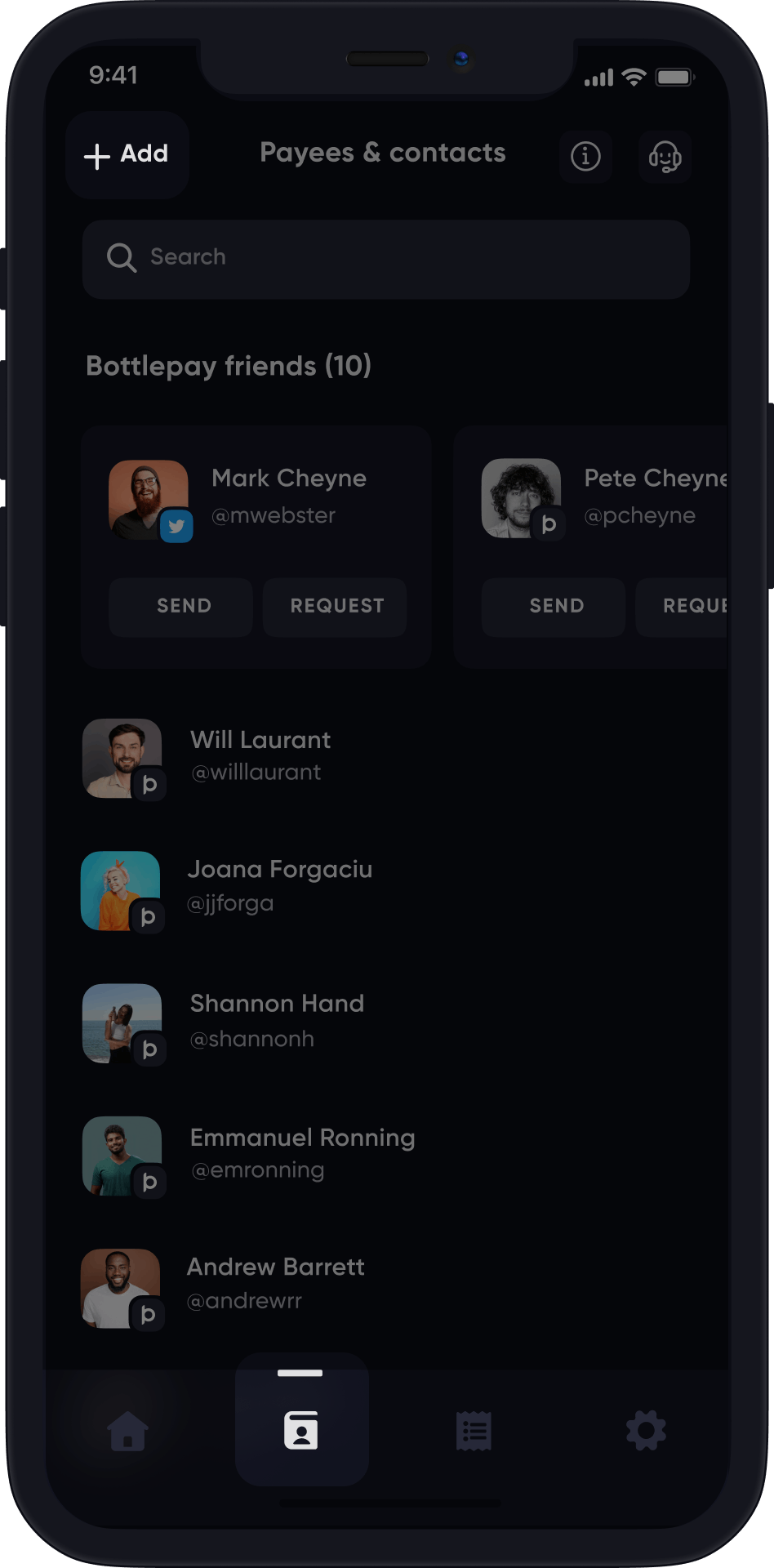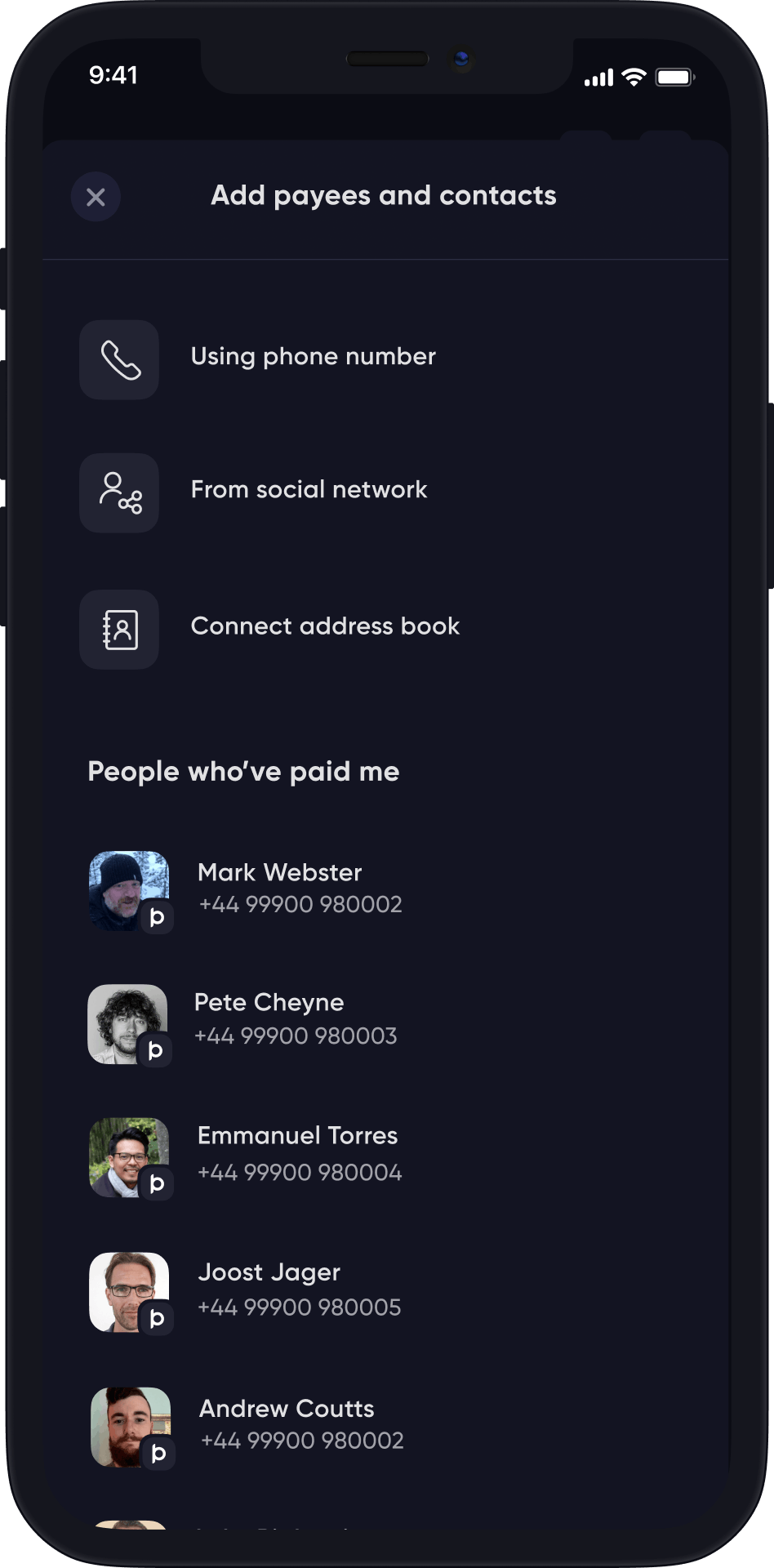 Contacts Screen
We currently support social payments through Twitter, Discord, Reddit, Twitch, and Github!
c. Settings Screen
The gear icon on the bottom right-hand side of the home screen takes you to settings
. From here, you can:
View account limits

Change your currency settings

View your security preferences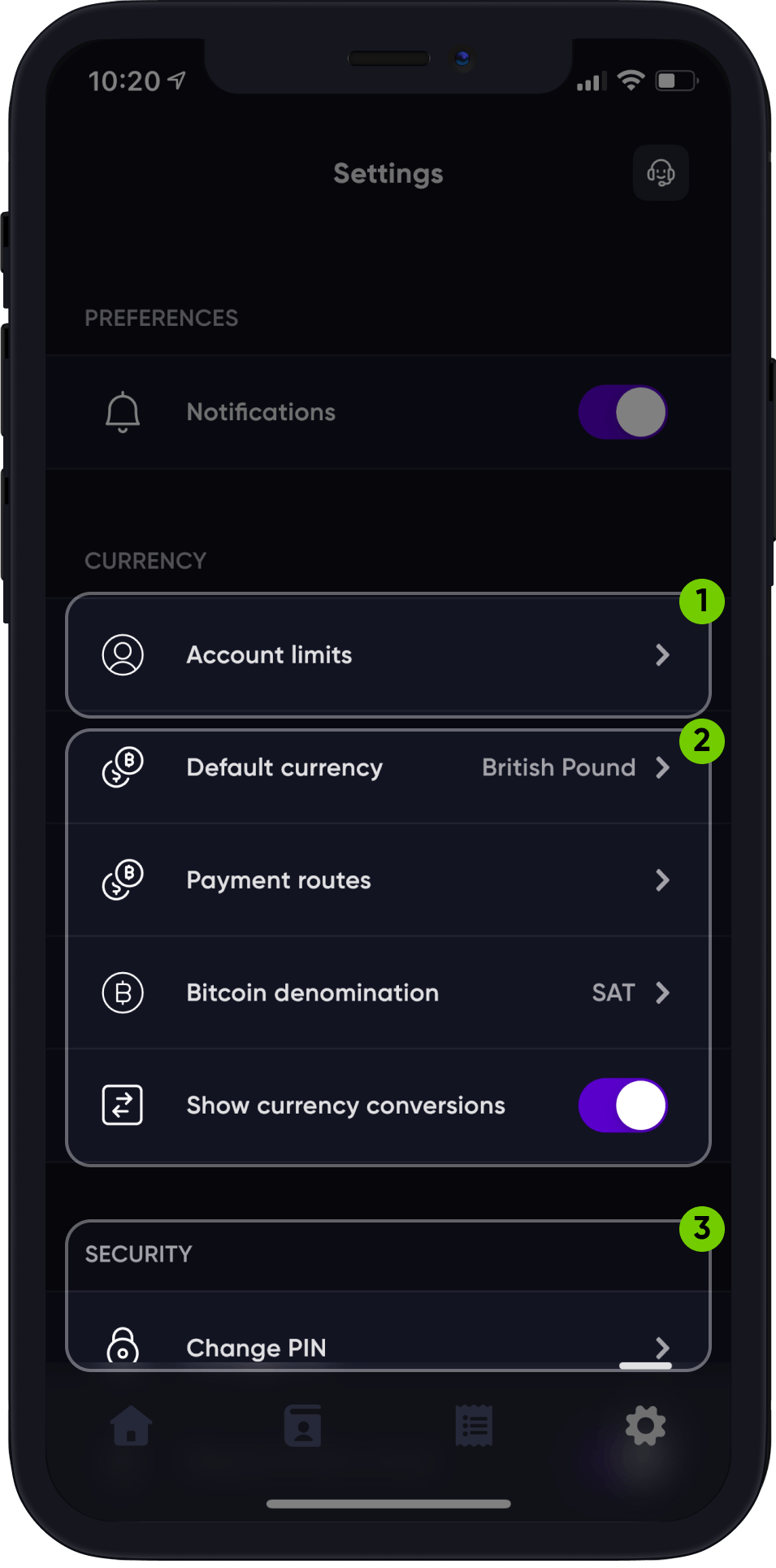 Settings Screen
Payment routes
When receiving payments on Bottlepay, you decide whether to accept those funds as Bitcoin (BTC) or British pounds (GBP). Then, you can always convert the BTC you receive into GBP — see below to find out how.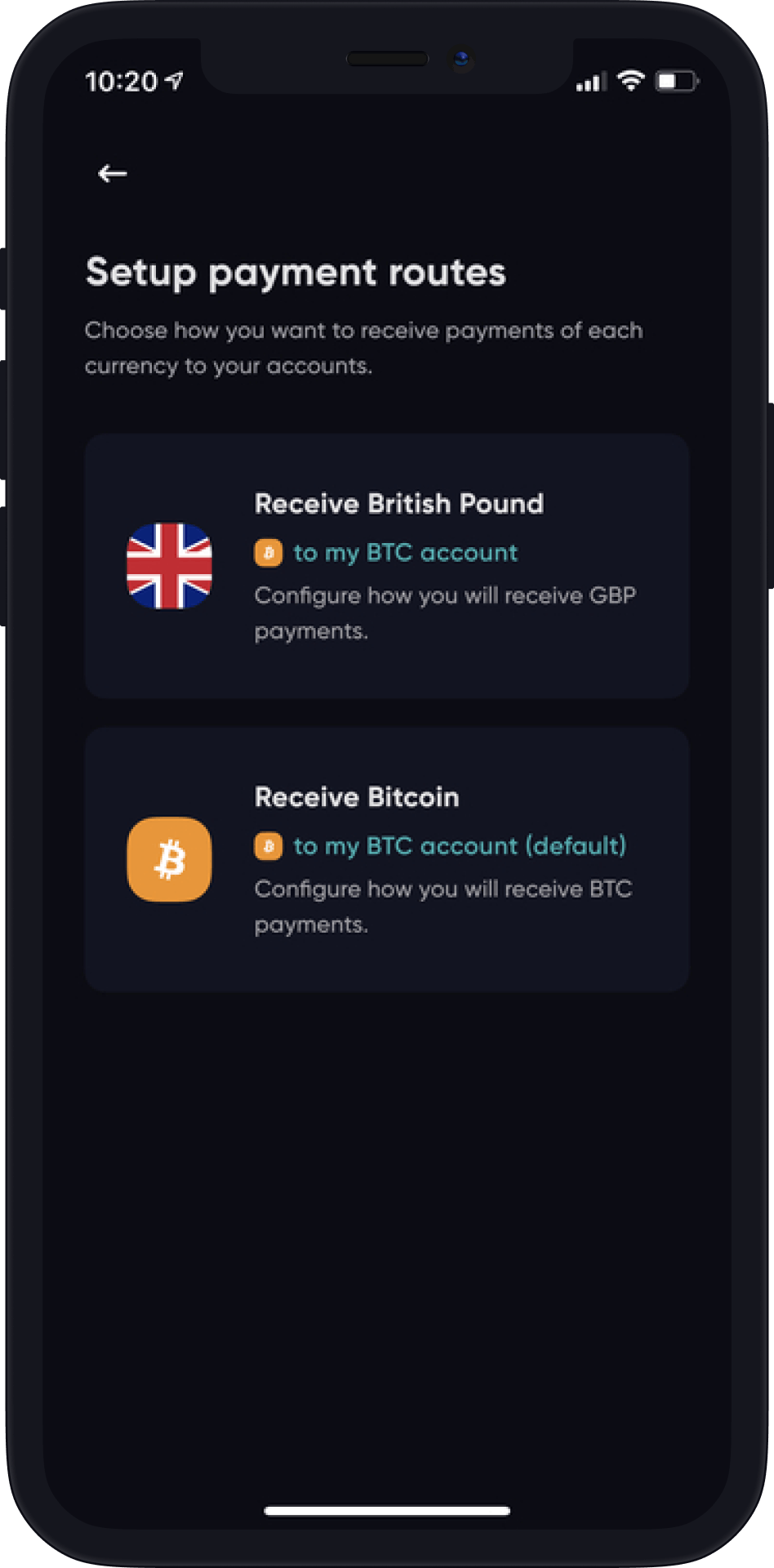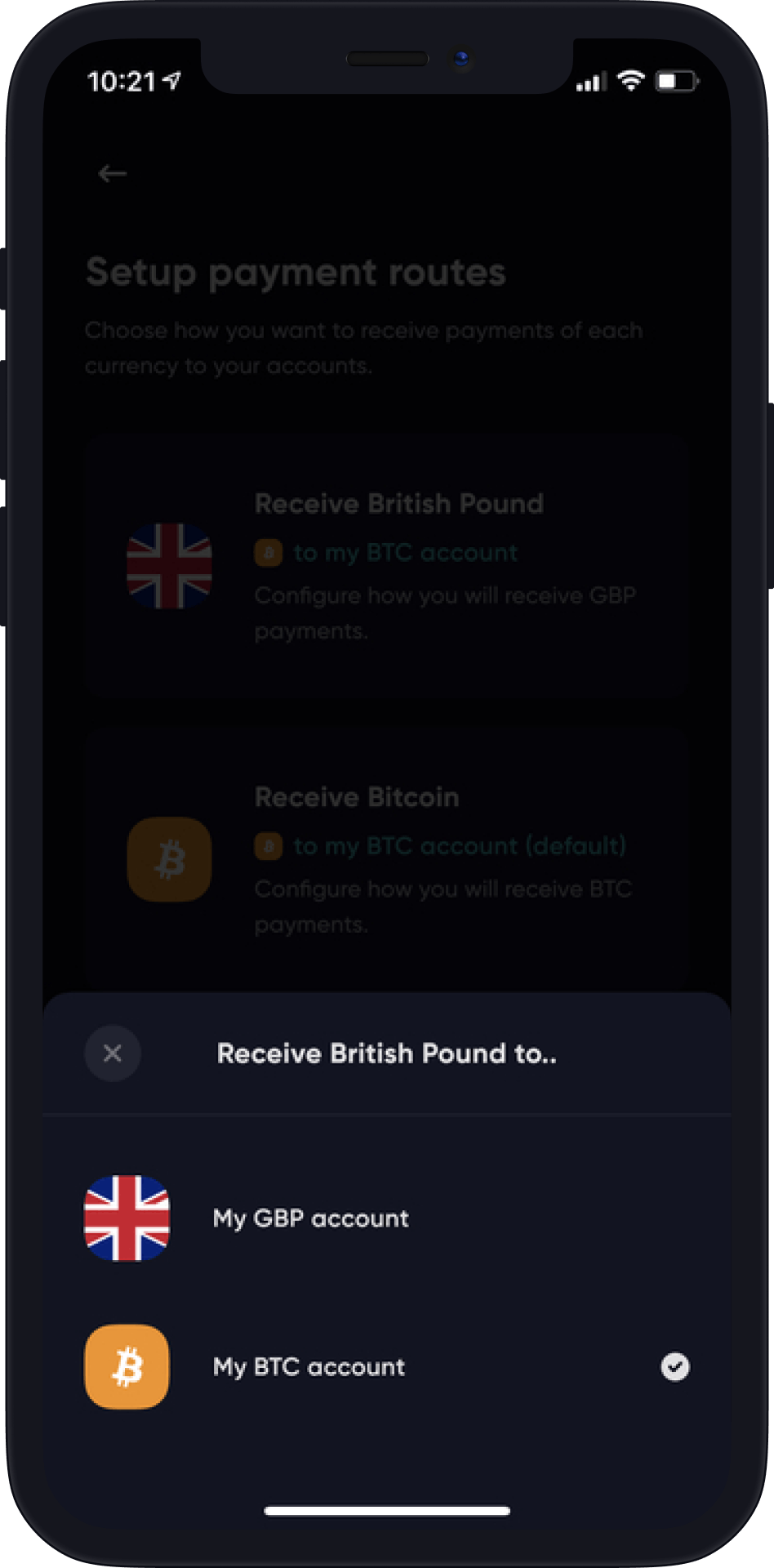 Payment routes settings
Default currency & Bitcoin denomination
On this screen, you can easily switch your default currency between GBP and Bitcoin. You can also switch your Bitcoin denomination between BTC (bitcoin) and SAT (short for satoshi, the smallest unit of bitcoin).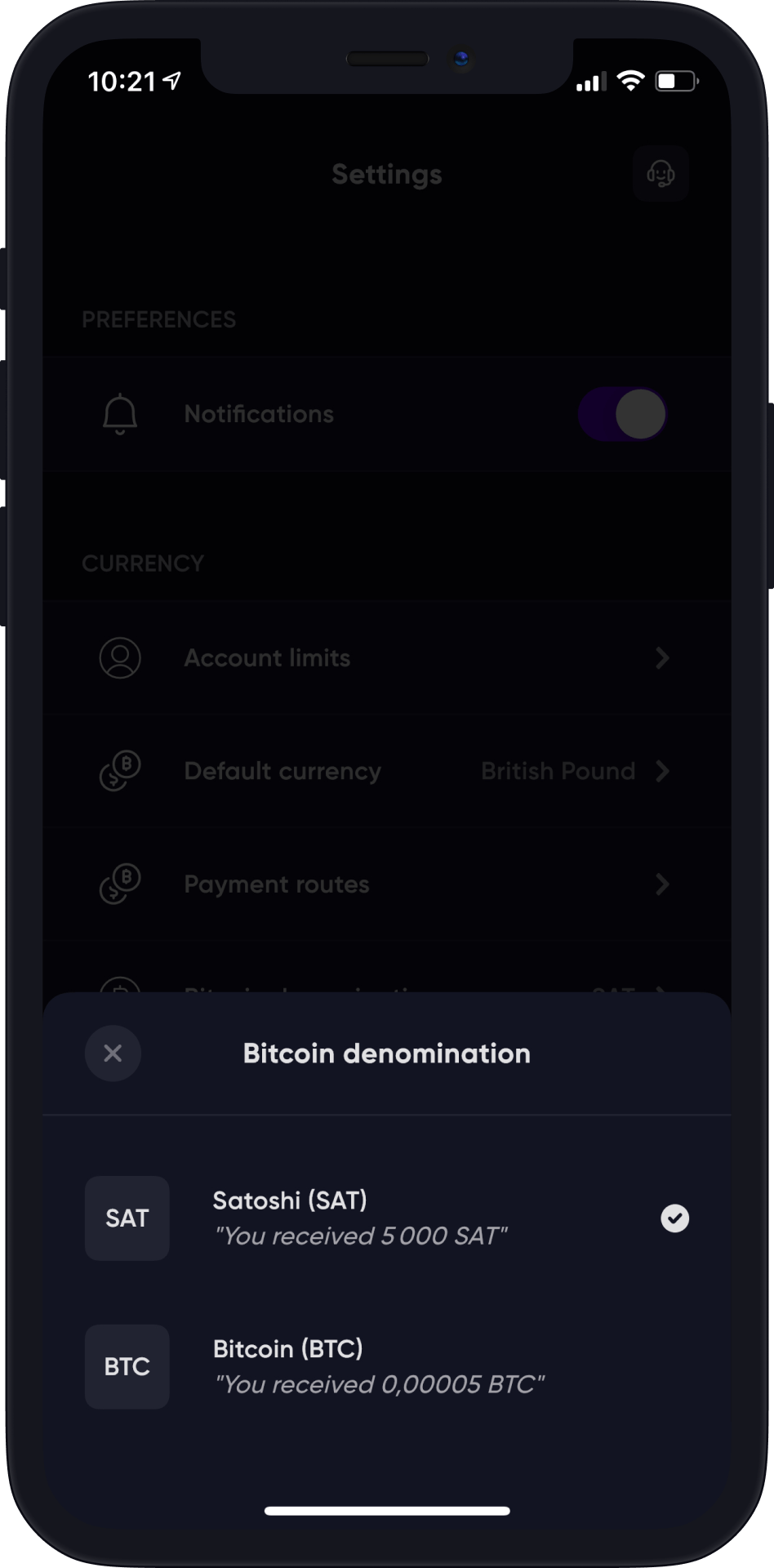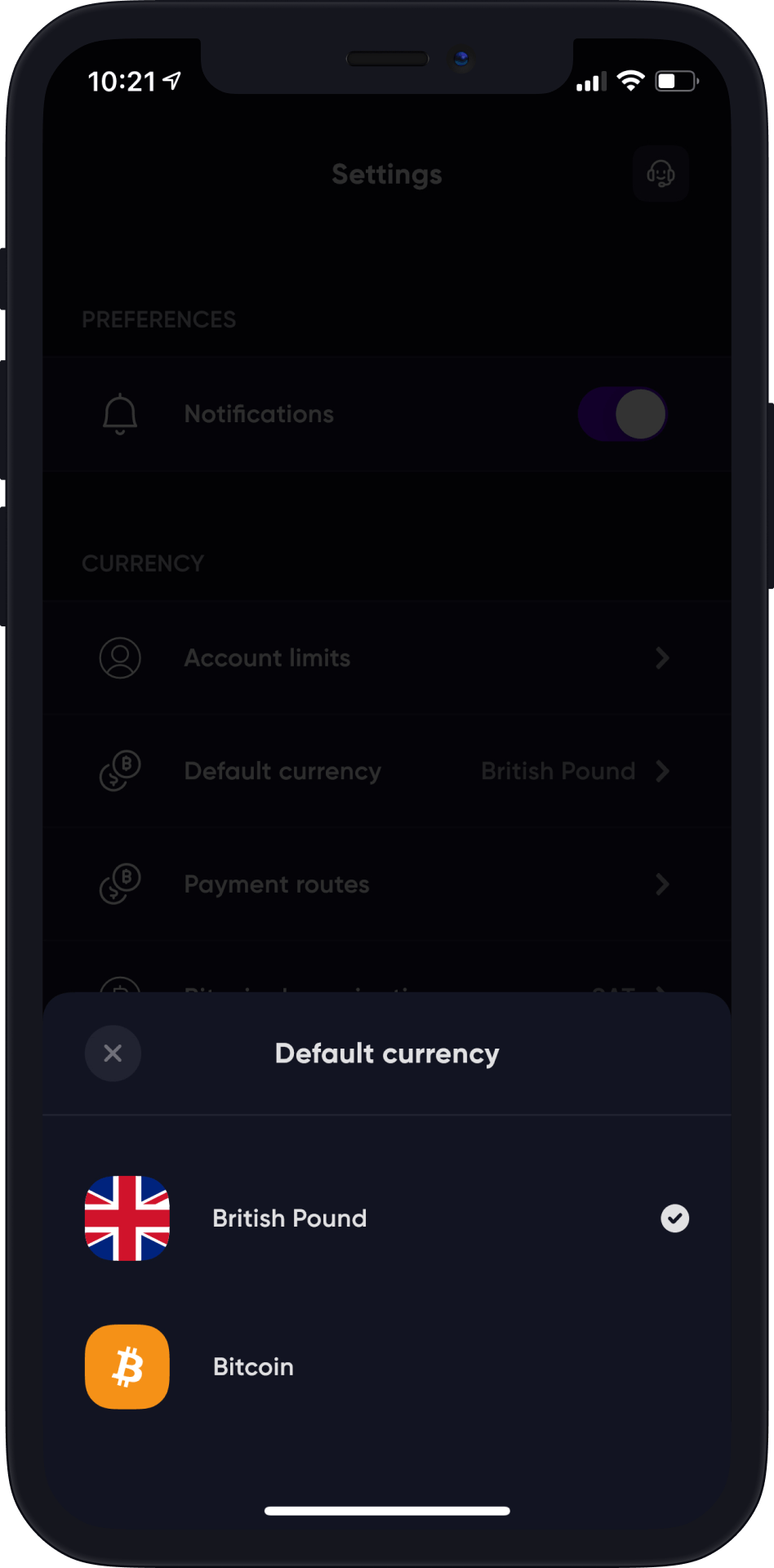 Default currency & Bitcoin denomination
🧗‍♀️ Next steps
Now that you're all set up, it's time for the fun stuff.
Funding Your Wallet
Firstly, let's get some funds into your wallet. On your home screen
, just tap the

button. You can deposit traditional (fiat) currency using your usual bank account, or you can deposit bitcoin.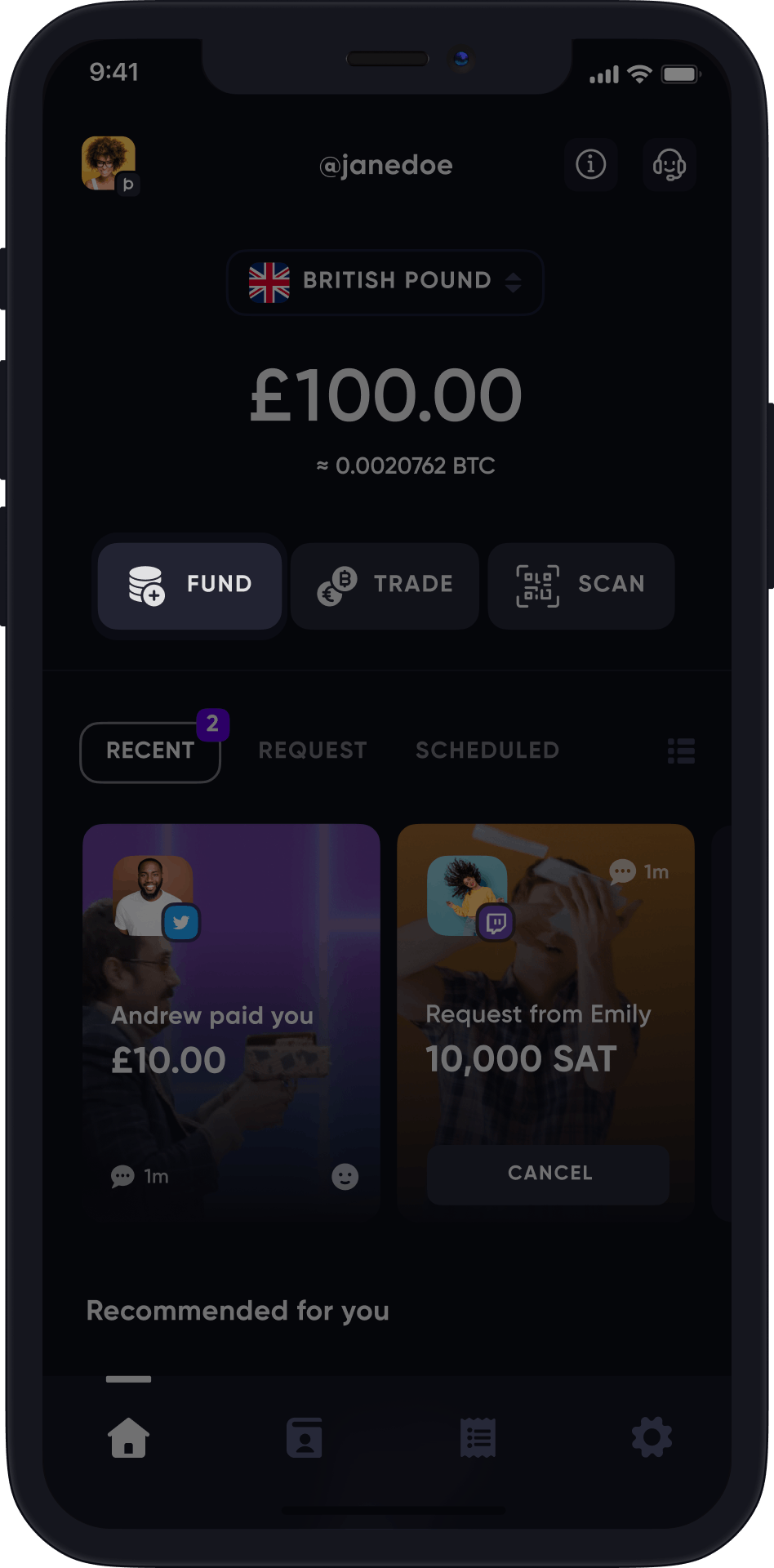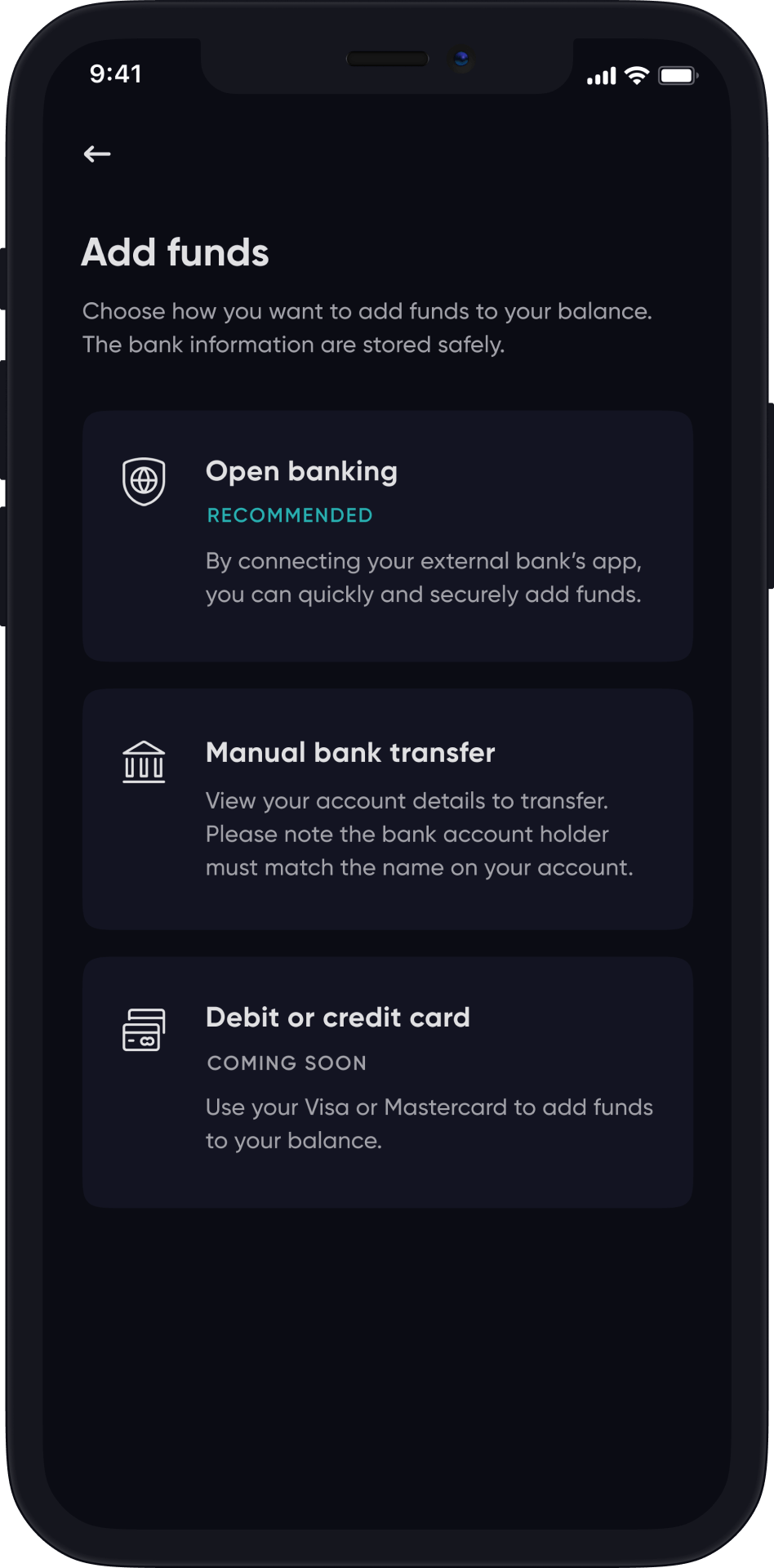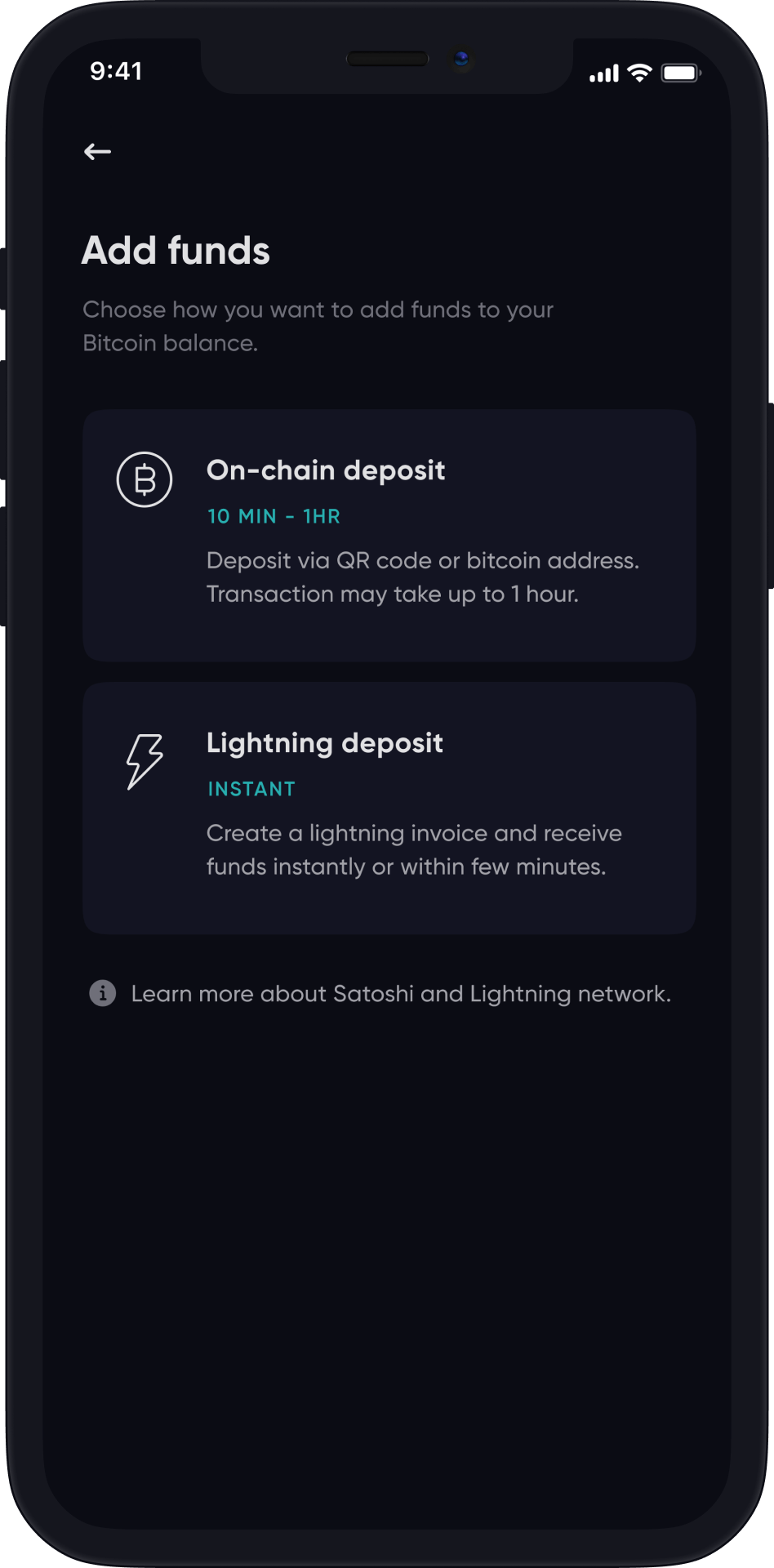 Funding your wallet
Note that if you choose to deposit on-chain bitcoin, the transaction can take up to an hour. If you're a bitcoin aficionado, you can choose the faster Lightning deposit option and receive your funds in just a few minutes.
Buying bitcoin
If you deposited fiat currency, now is a great time to explore buying bitcoin.
By tapping on the
button in the home screen
, you'll have the option to do a one-time purchase, or set up recurring ones.
For recurring trades (also called dollar-cost averaging, or DCA), just specify an amount and a frequency (daily, weekly, or monthly) and the trades will happen automatically! And don't worry — we'll send you a notification in case you don't have any funds available.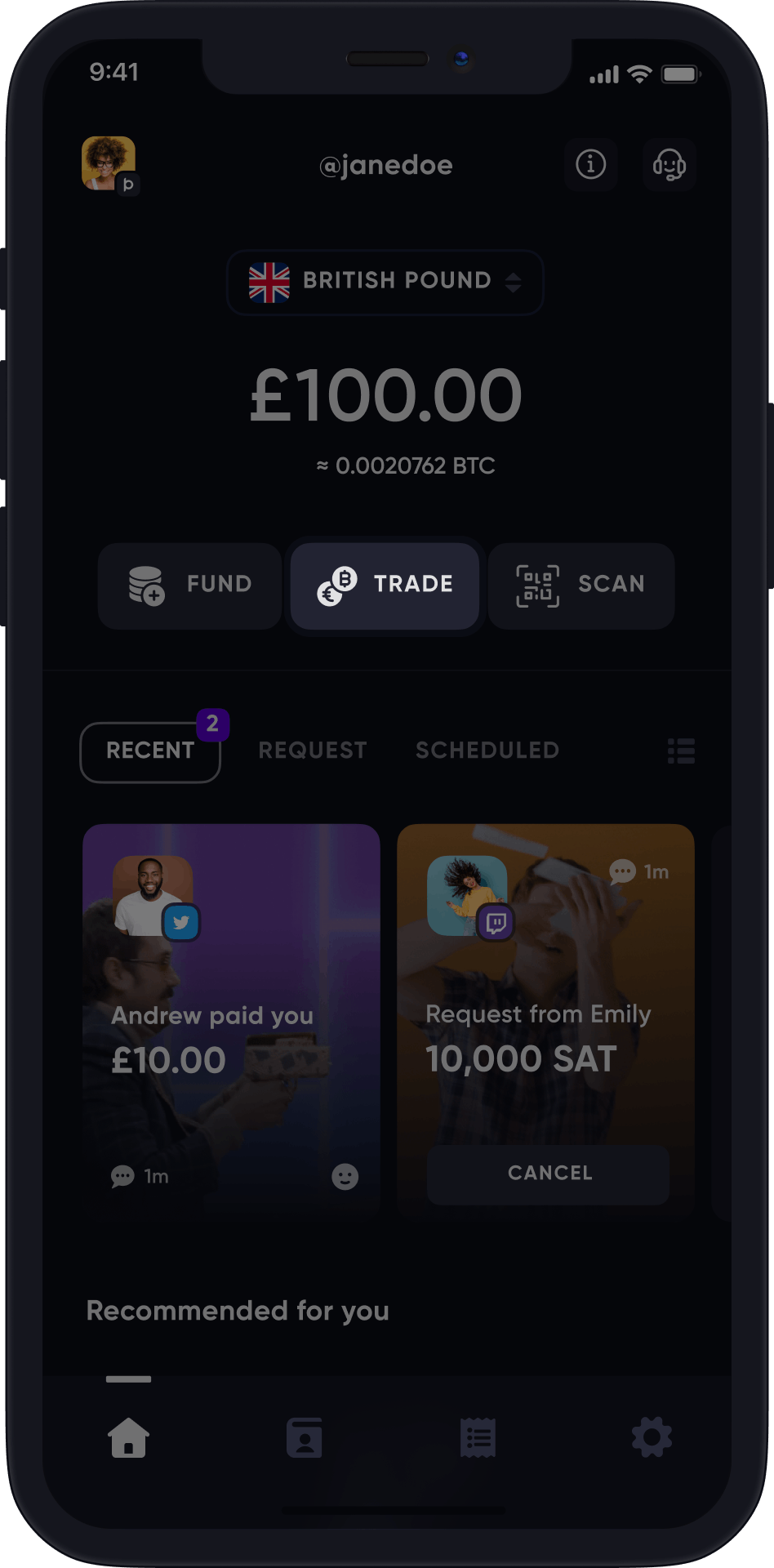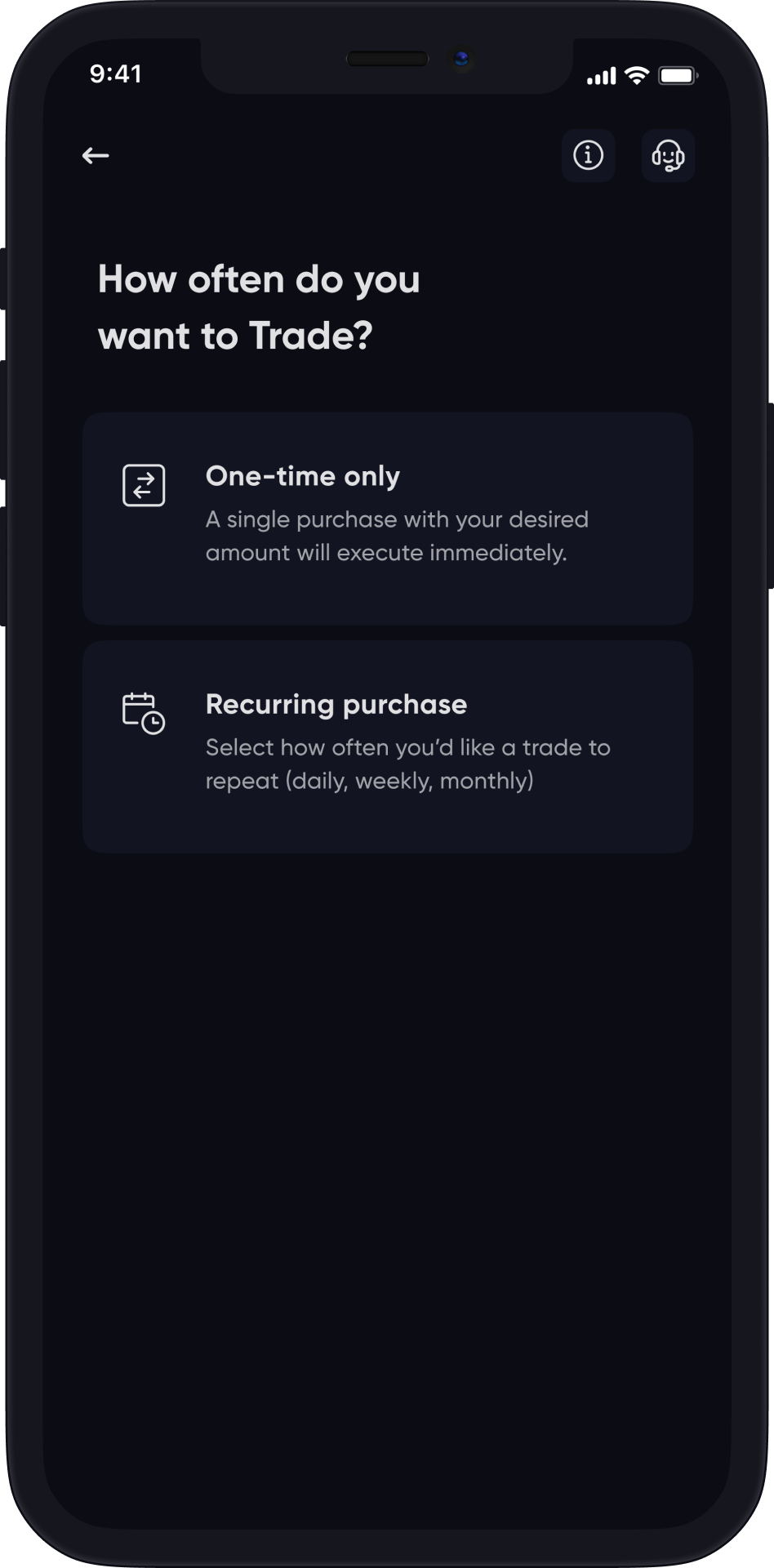 Buying Bitcoin
Sending Funds
Now that you have both fiat and bitcoin, you can finally send funds.
From your payees list
, you can send funds to your contacts in a few quick taps. Pick the amount and currency that you want to send, enter your payee's information, and it's on its way.
If you find yourself in front of a QR code (usually for bitcoins payments), you can just tap the
button from the home screen.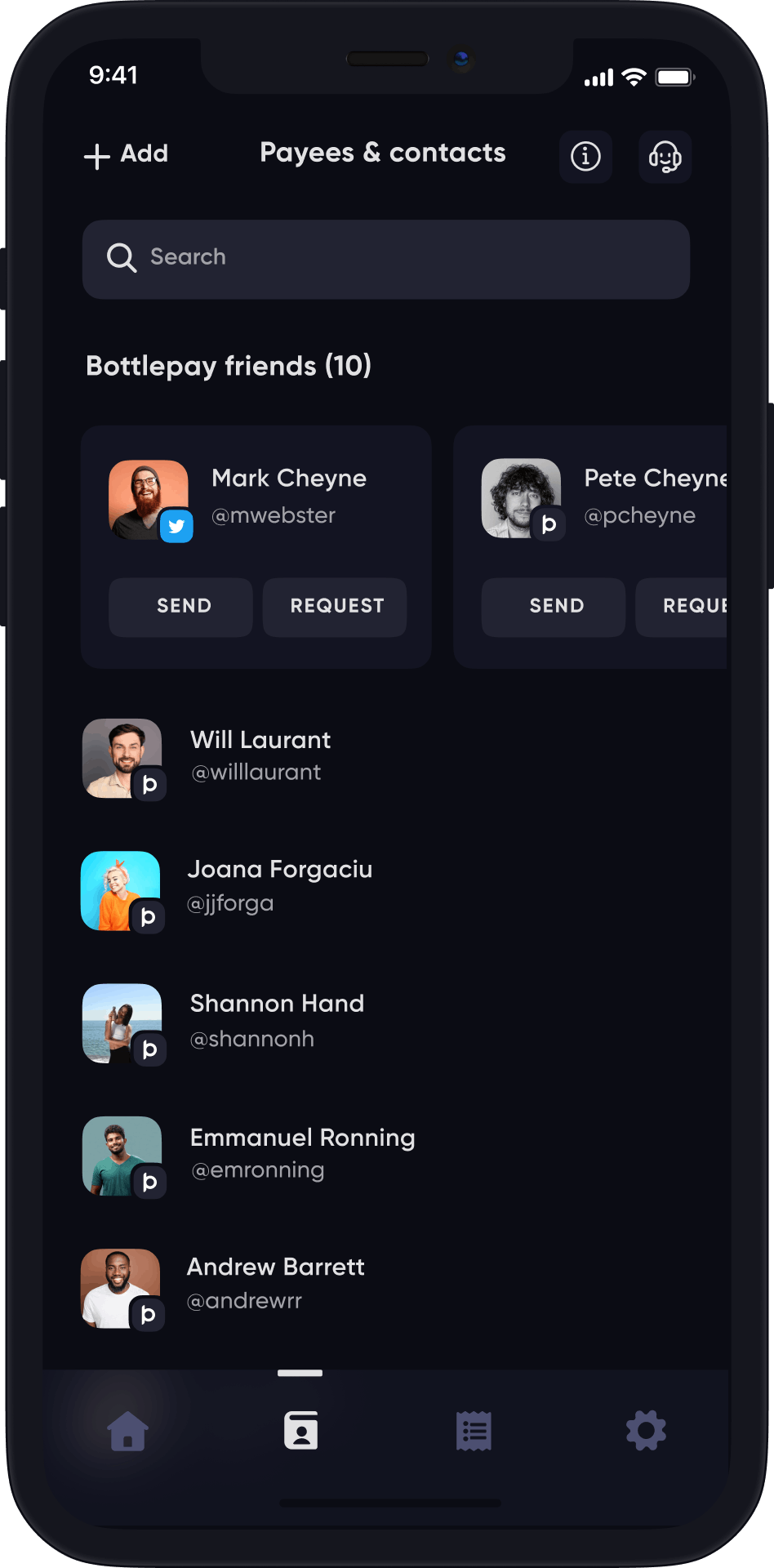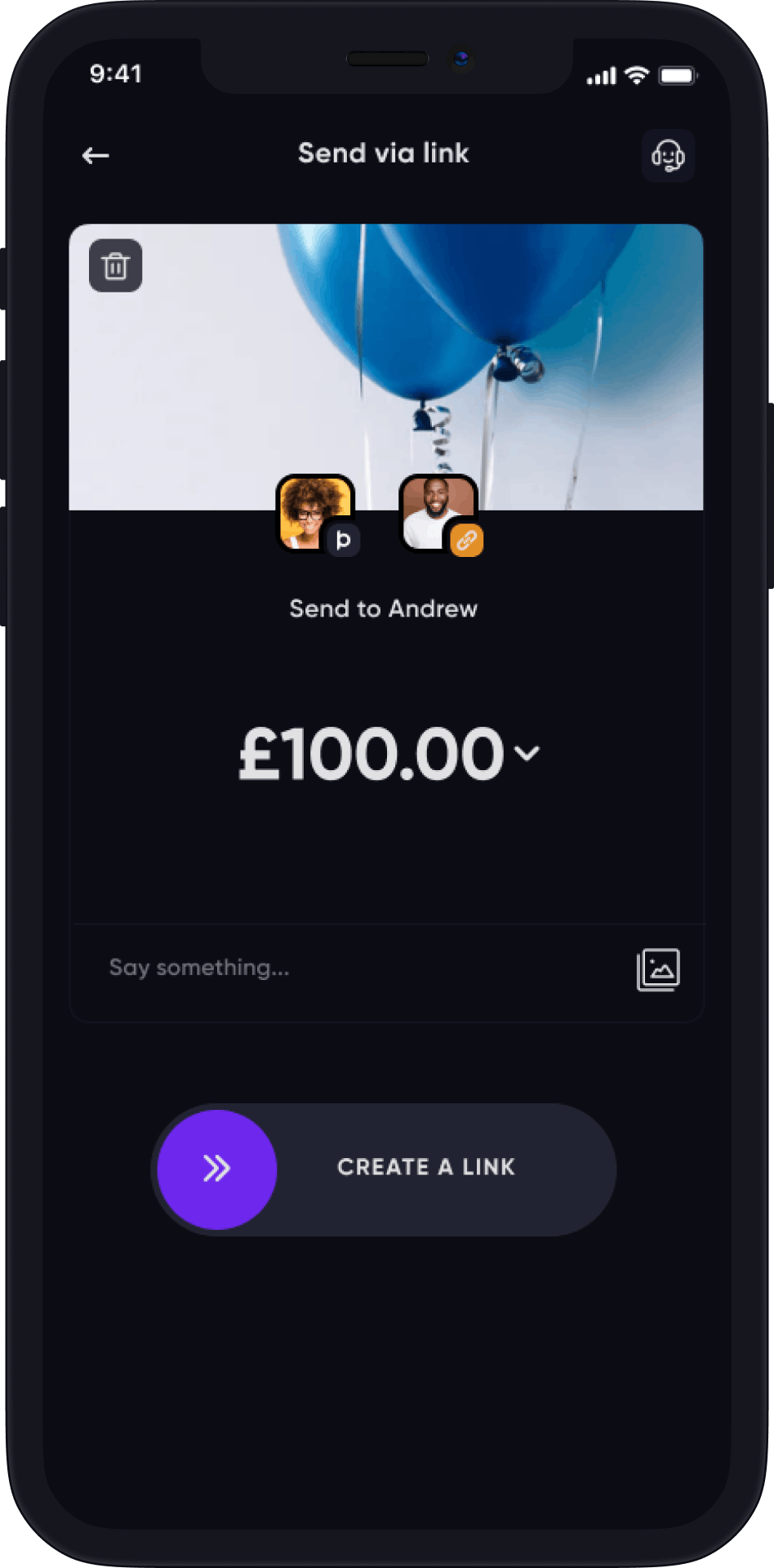 Sending Funds
Receiving Funds
Sending is nice, but what about receiving?
Same process. Just select a payee from your list, and request any amount you want from them.
If you want to receive bitcoins from someone outside Bottlepay, just tap the
button on the home screen
, choose "Bitcoin", and select "on-chain deposit" to see your bitcoin address.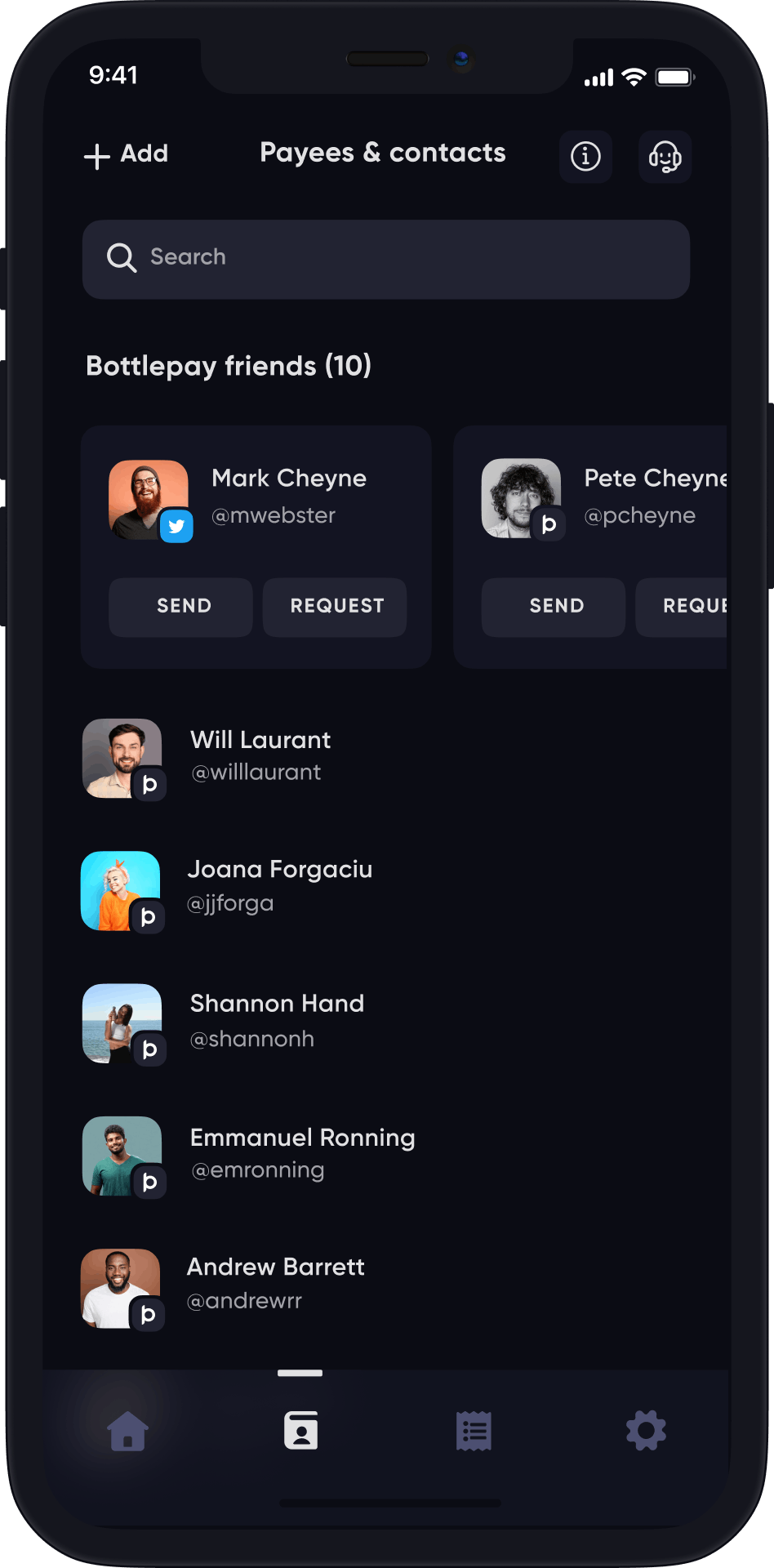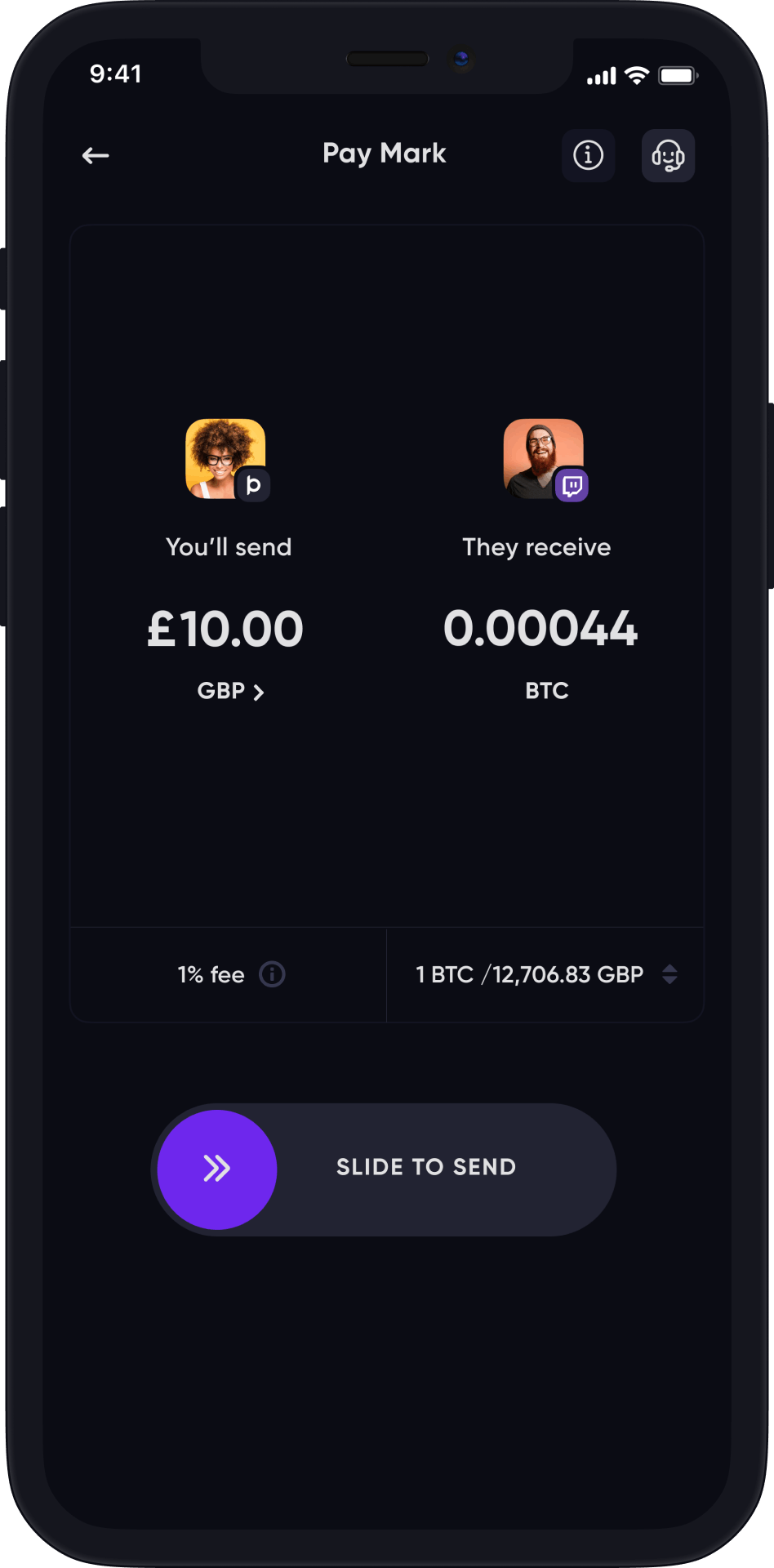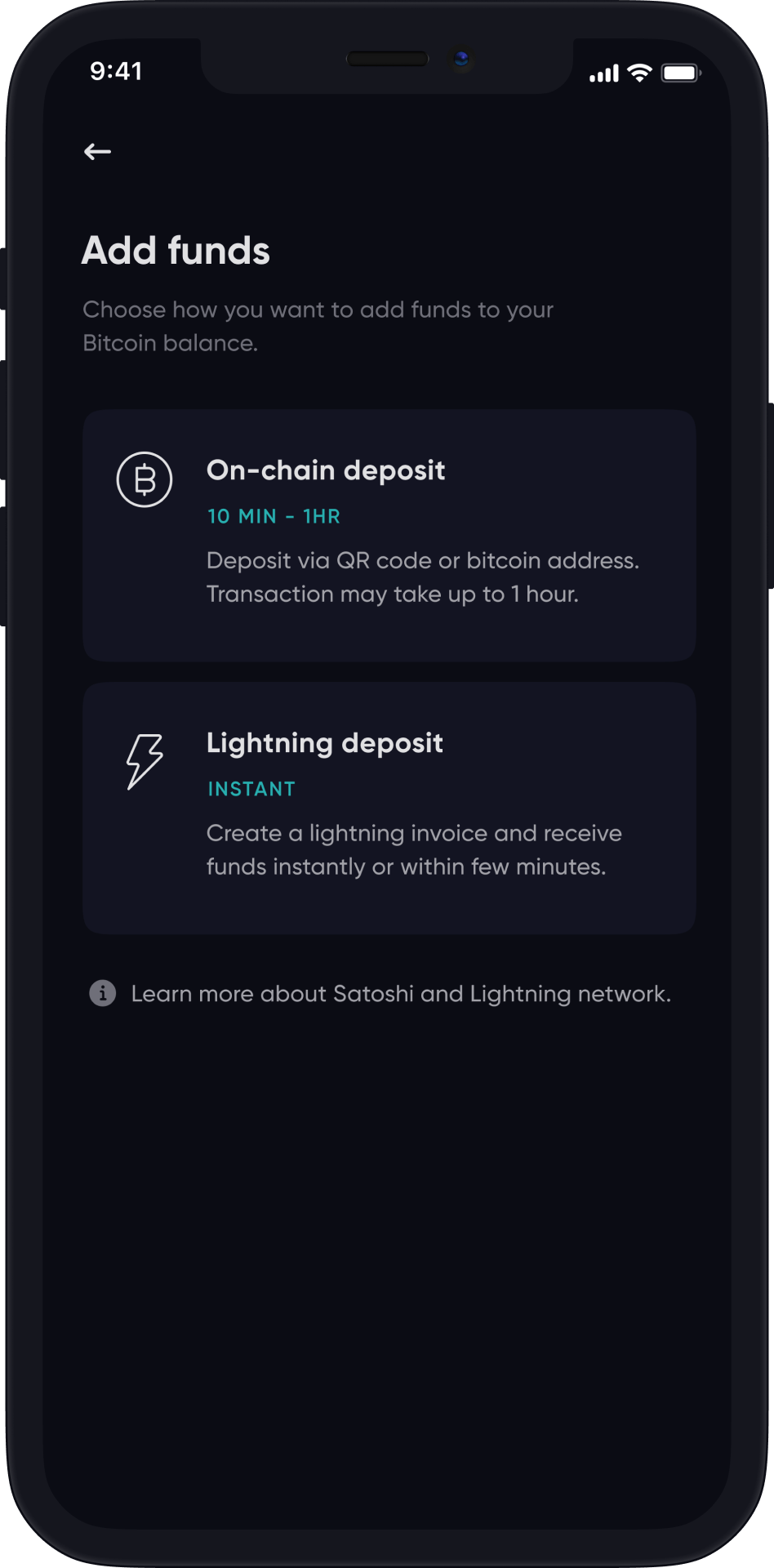 Receiving Funds
If you are a Bitcoin aficionado, you can also choose "Lightning deposit" to create an invoice.