Terminology
Fiat: traditional government currency like USD, GBP, or EUR.
Sat: short for satoshi, the smallest unit of bitcoin. 1 BTC = 100 000 000 sats.
Verifying Your Account
As a regulated financial services company, we have to verify your identity. Just snap a photo of your valid driver's license, passport or national identity card — and a quick selfie — and you'll be on your way.
If we need more information to verify your identity, we'll ask for another form of ID or proof of address, such as a bank or council tax statement from the last 12 months.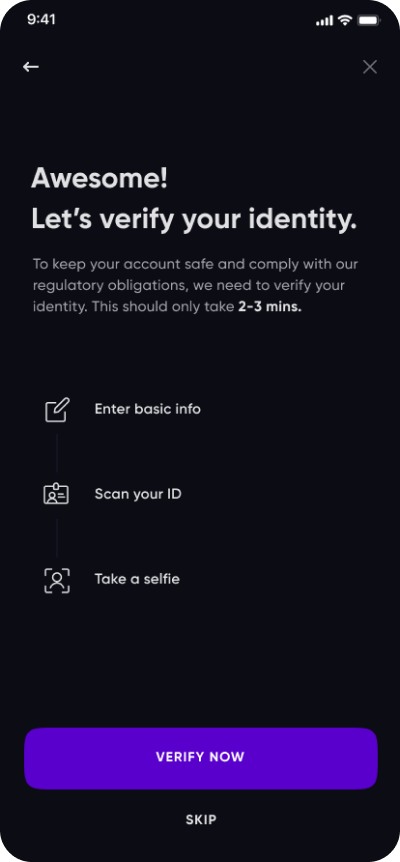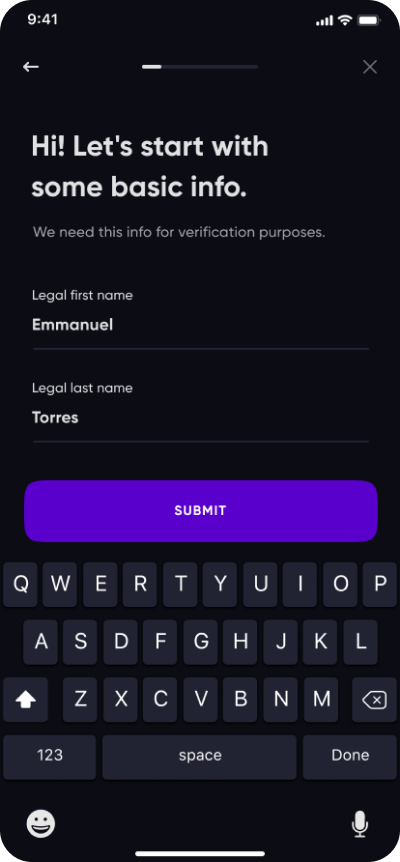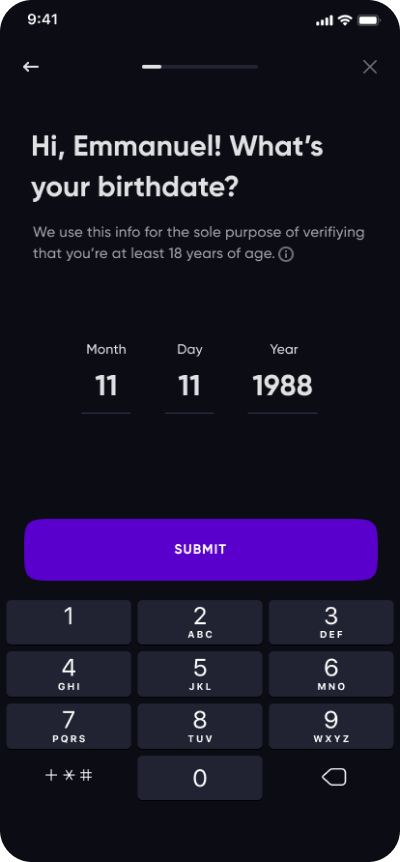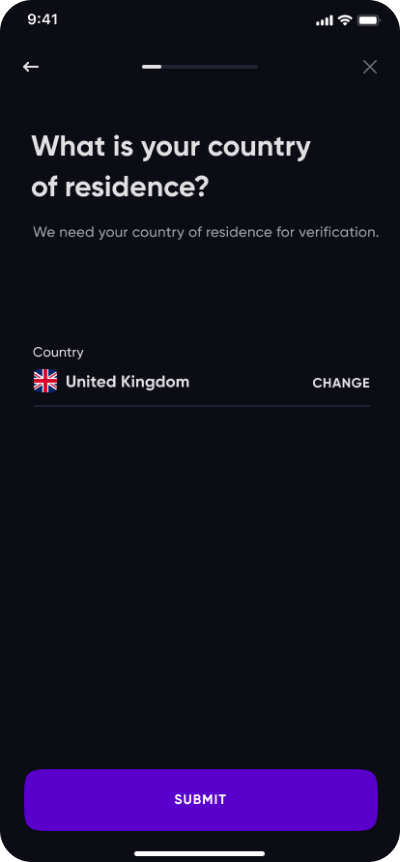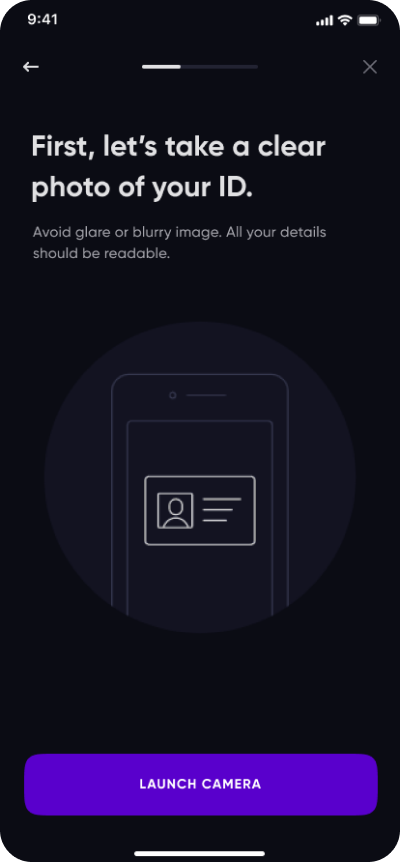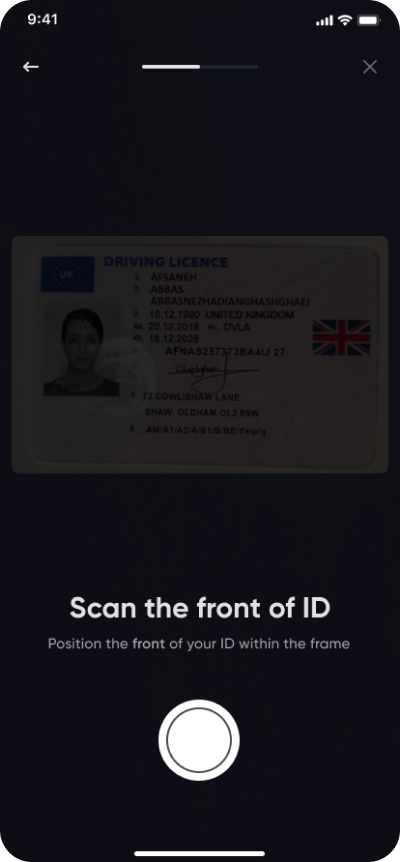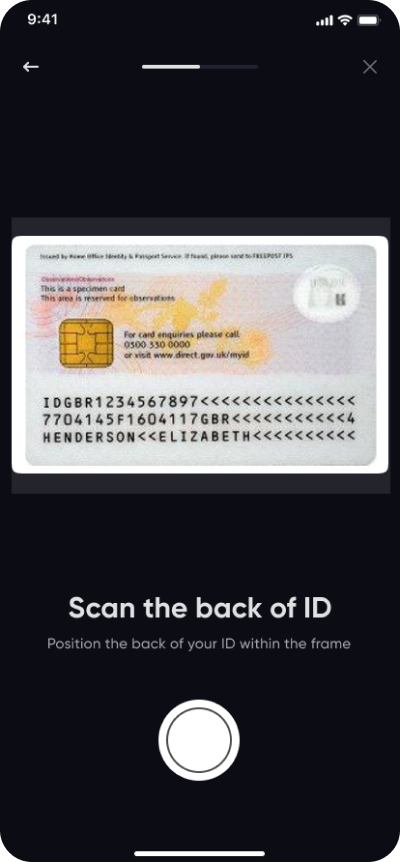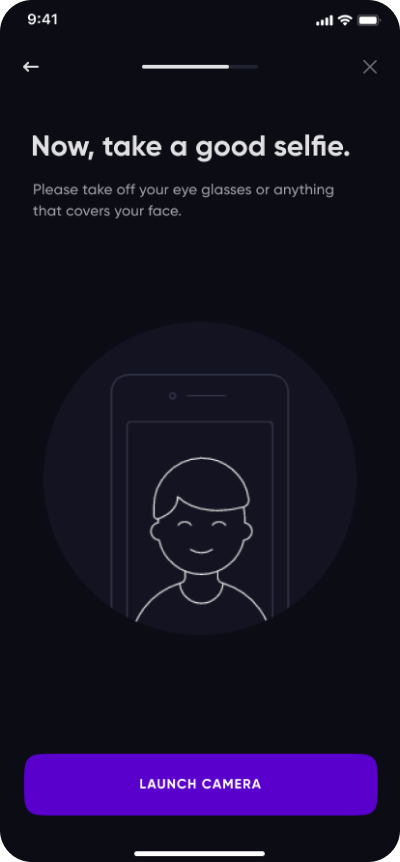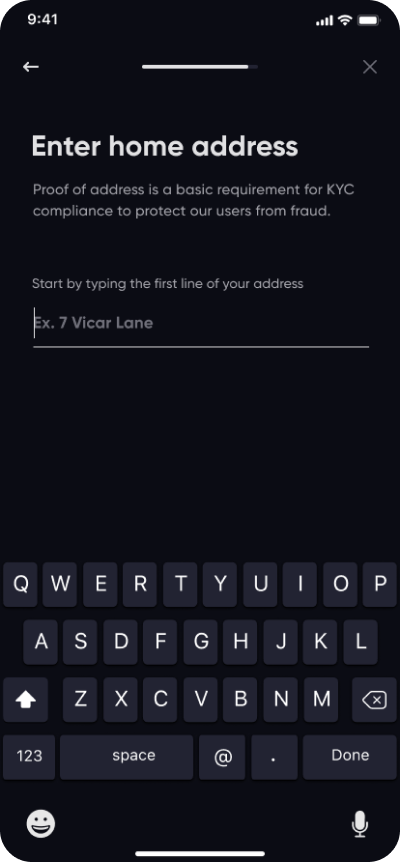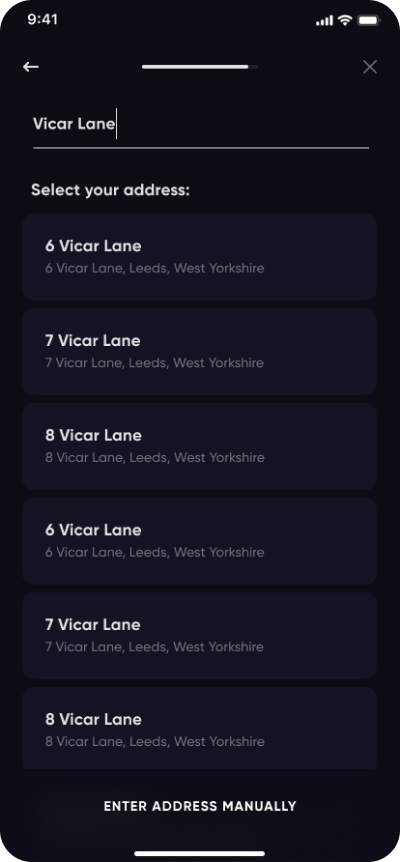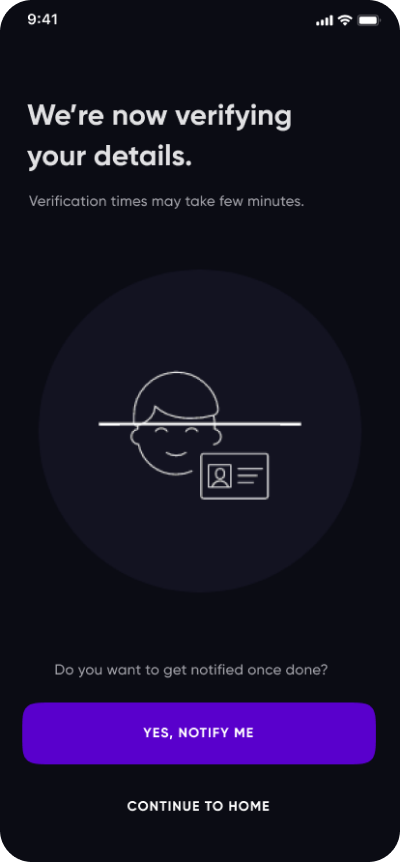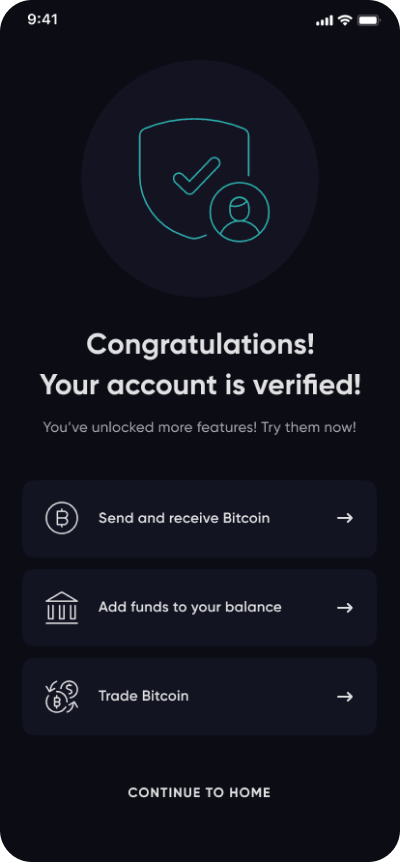 Navigating the app
Home Screen
Once the verification process has finished, you'll be back on the home screen. Here, you can:
Add funds to your account

Buy and trade bitcoin

Check the bitcoin price and your account value over time

See your recent transactions

Check your balances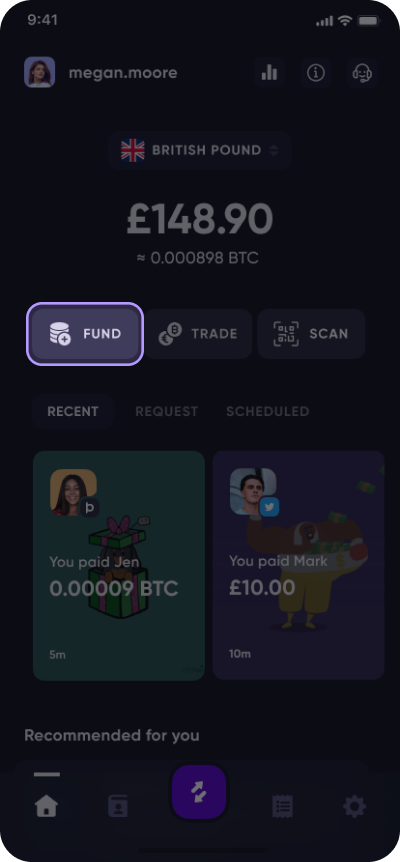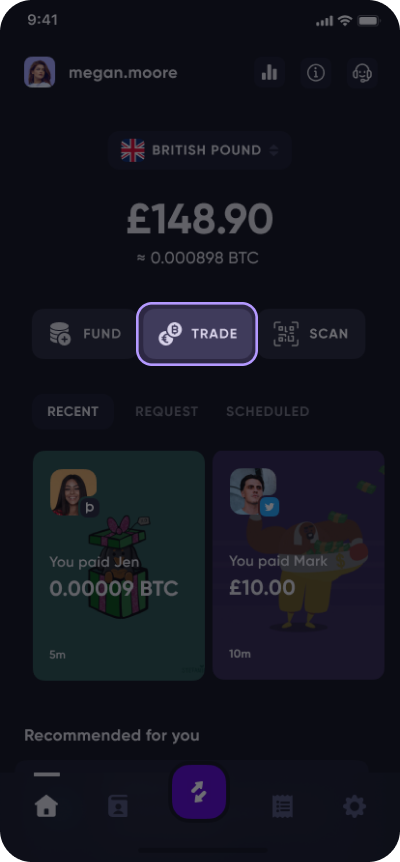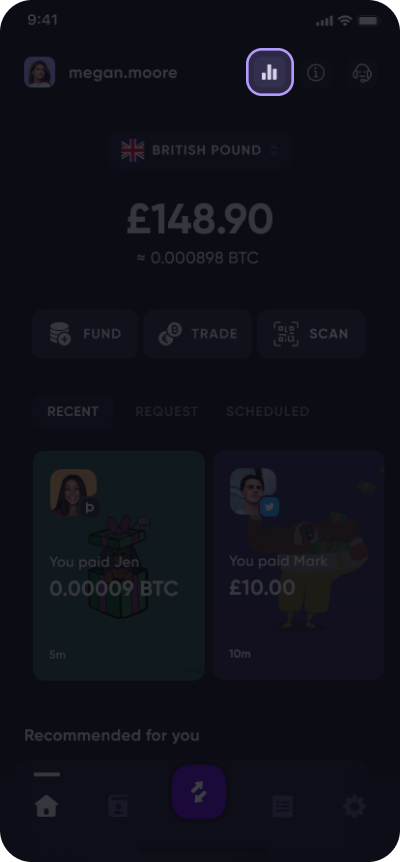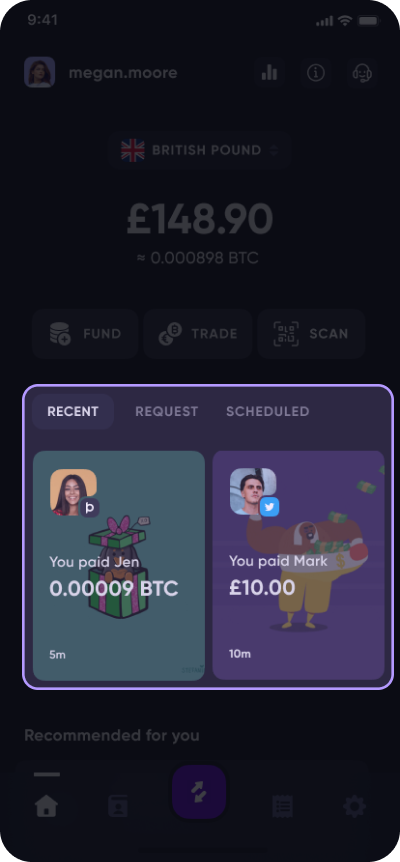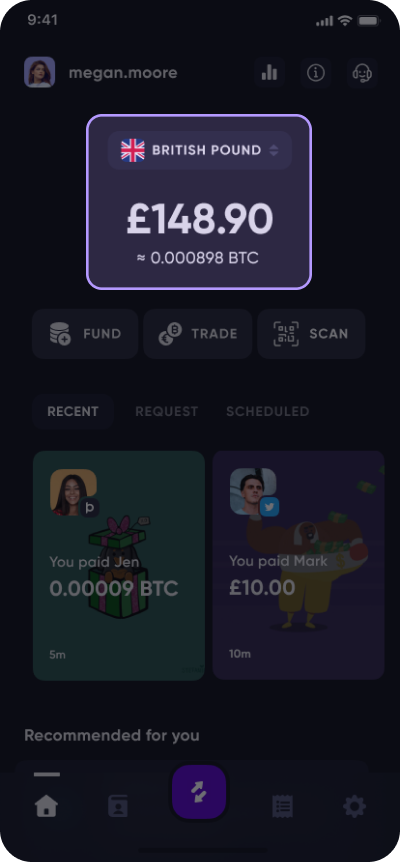 In the top-left, tap the profile button to view your account balances, avatar image, username and more! To view the bitcoin price, head over to the portfolio section by tapping the bar chart image in the top-right hand corner. To complete an app tour or contact customer support, tap the appropriate icon in the top-right corner.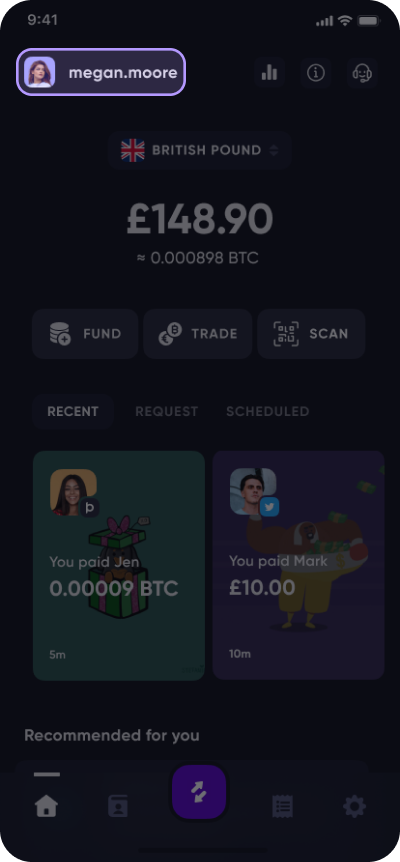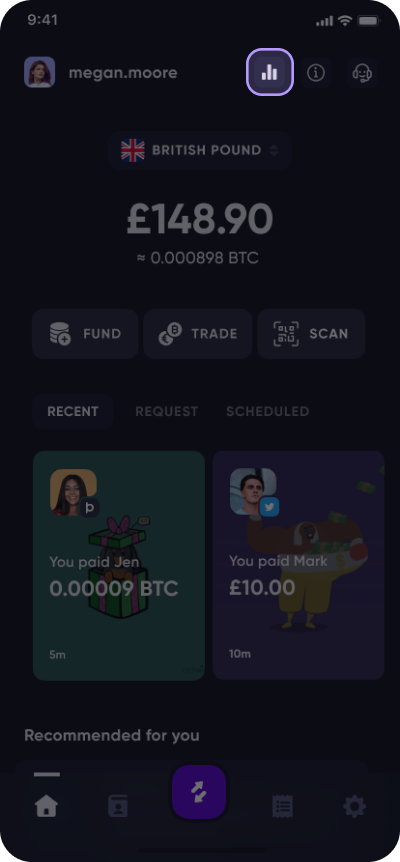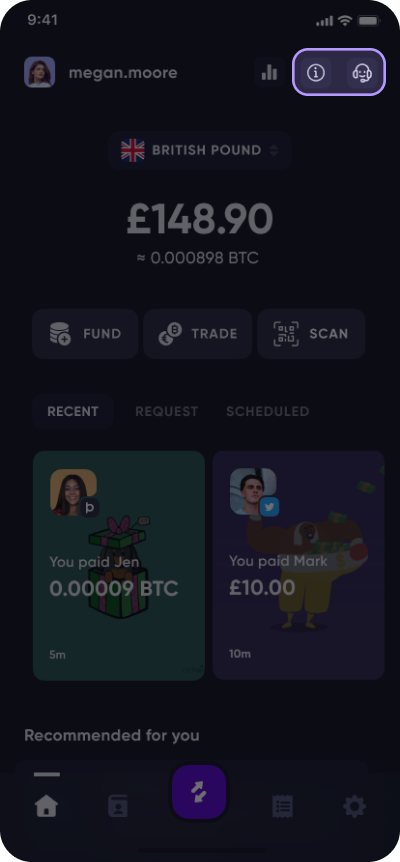 Friends page
By tapping the contact book at the bottom of the home screen, you can quickly sync your address book or add friends using their:
Bottlepay username

Mobile number

Social network handle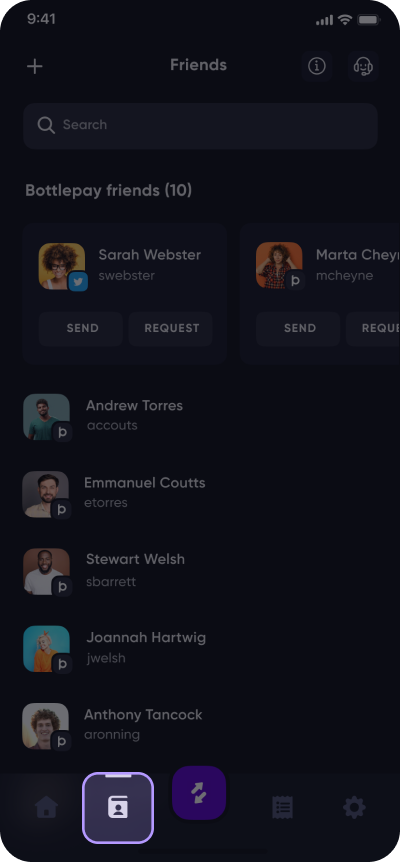 We currently support social payments through Bottlepay Bot's on Twitter and Discord - Reddit, Twitch and Telegram are coming soon.
Portfolio mode
The chart icon in the top right-hand corner takes you to the portfolio section. Here you can:
Check the price of bitcoin

View your portfolio over time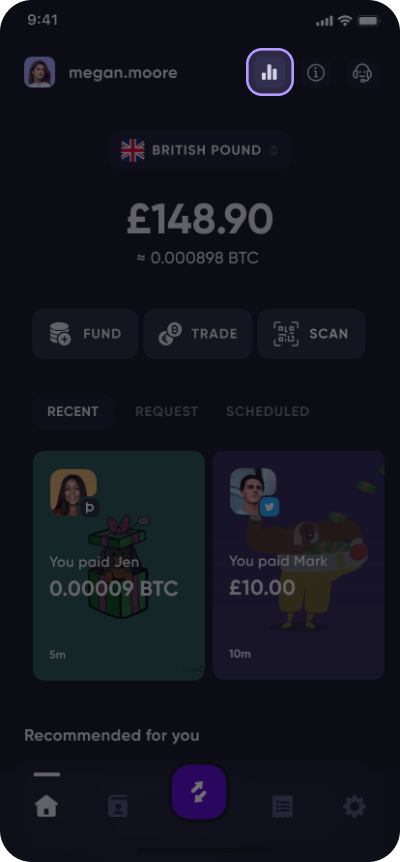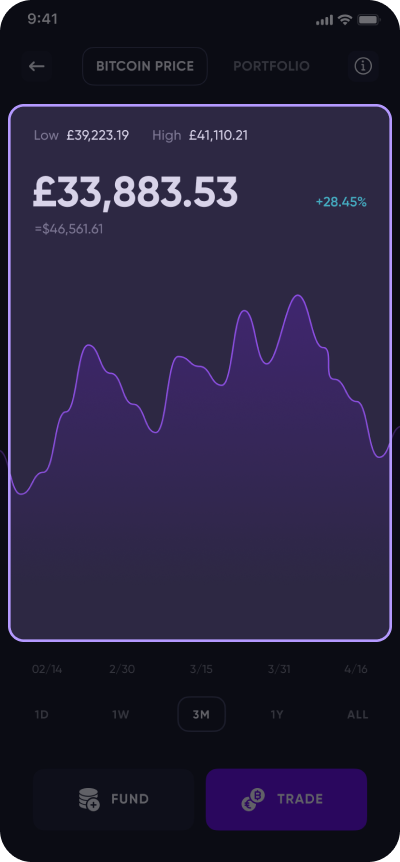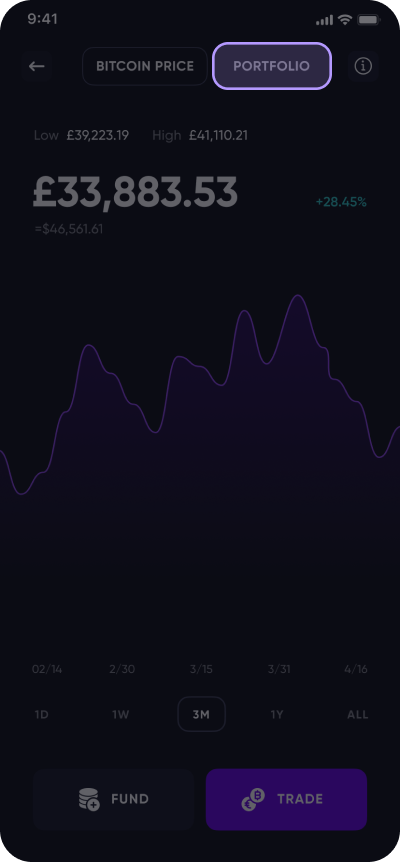 You can view the price of bitcoin and your portfolio value over different time frames such as daily, weekly and monthly.
Transactions
If you tap the ticket icon you will get information about all your transactions.
Here you can:
Search for a specific transaction

Filter by 'All, 'Sent', 'Received', 'Trades' and finally 'Scheduled".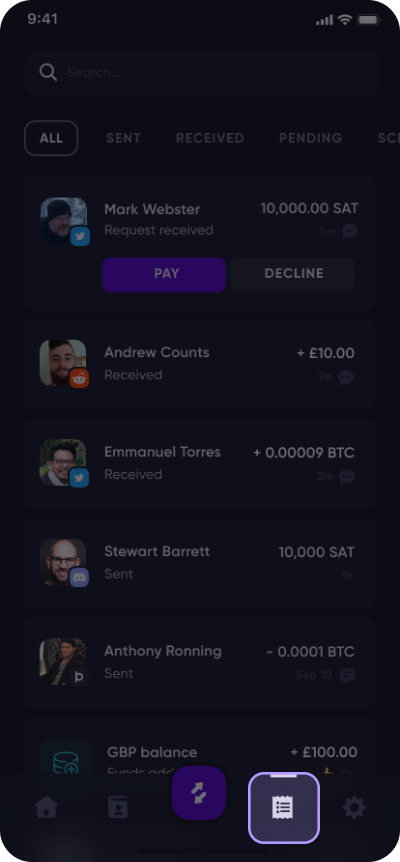 By tapping your scheduled trade you can find more information such as when your next trade executes, your total purchases from the recurring trades and the average bitcoin price.
Settings screen
The gear icon on the bottom right-hand side of the home screen takes you to settings. From here, you can:
View account limits

Choose your native currency and bitcoin denomination

View your security preferences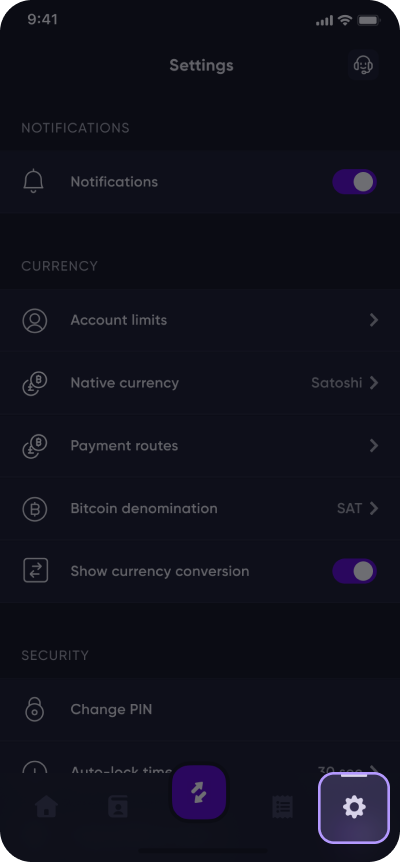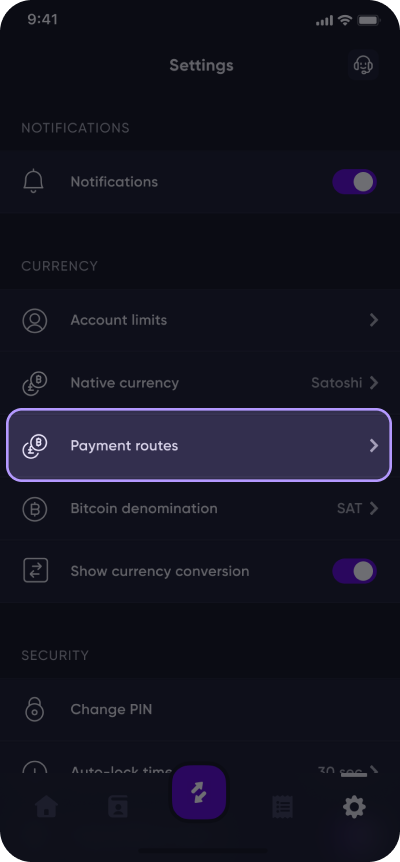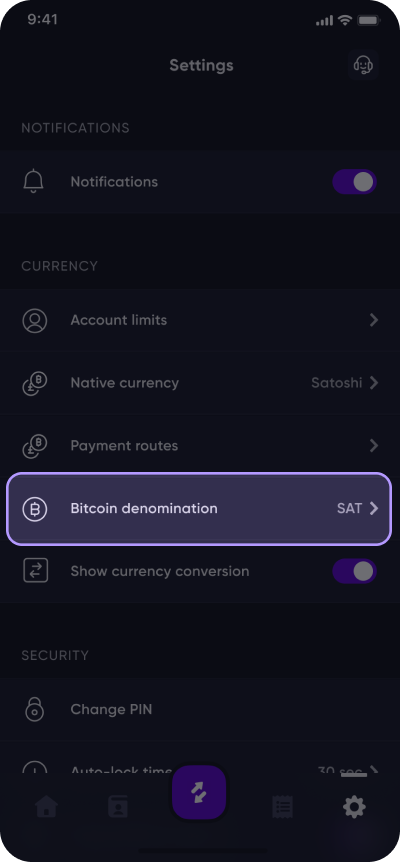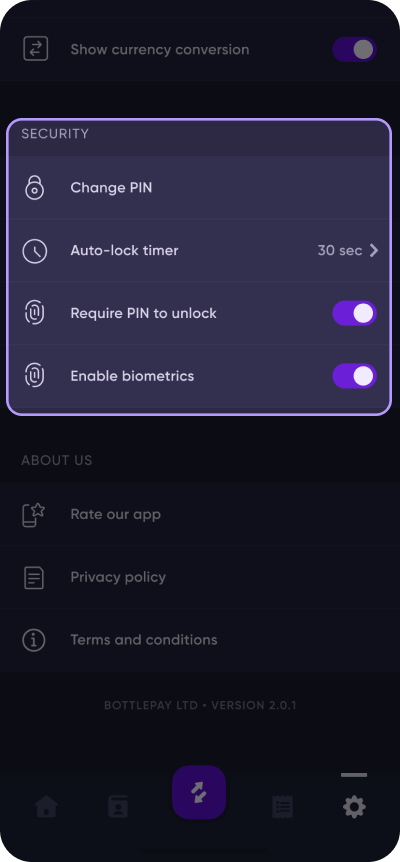 Payment routes
When receiving payments on Bottlepay, you decide whether to accept those funds as Bitcoin (BTC) or in your native currency. This means you can automatically route fiat payments you receive directly to your bitcoin account or vice versa. See below to find out more.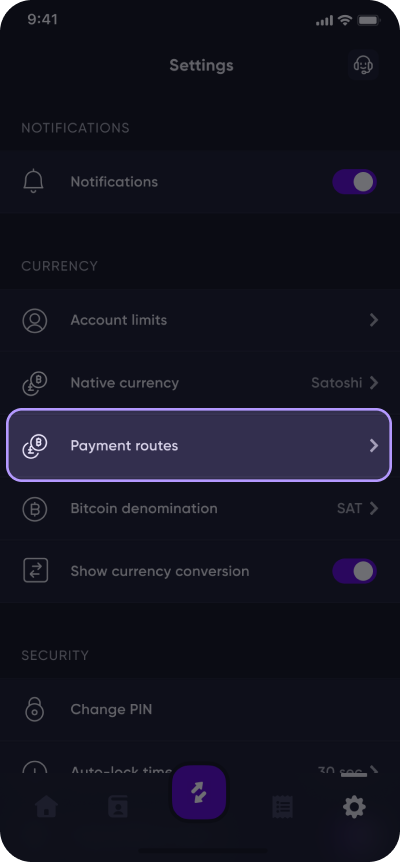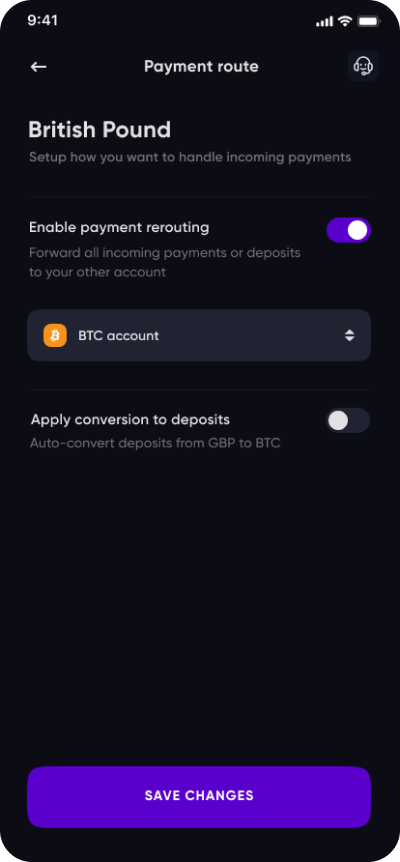 Funding Your Wallet
Firstly, let's get some funds into your wallet. On your home screen, just tap the FUND button. You can deposit traditional fiat currency using your usual bank account via our fast and secure open banking option (UK) or via a manual transfer. What's awesome is that you will receive your own unique payment account (account number and sort-code/IBAN), so no specific reference is required for your transfer.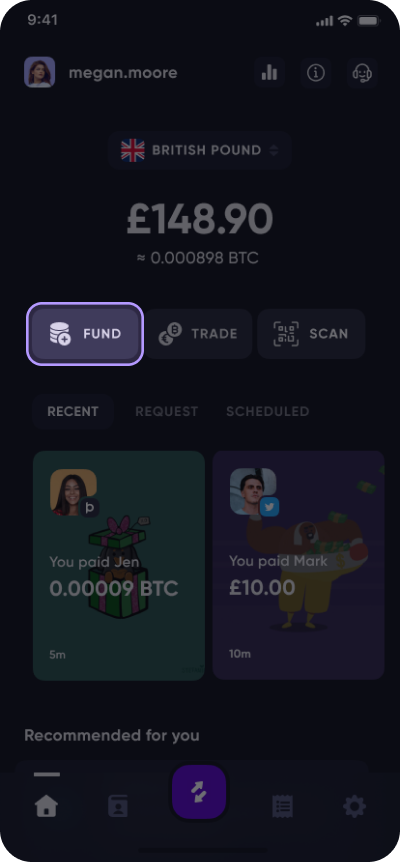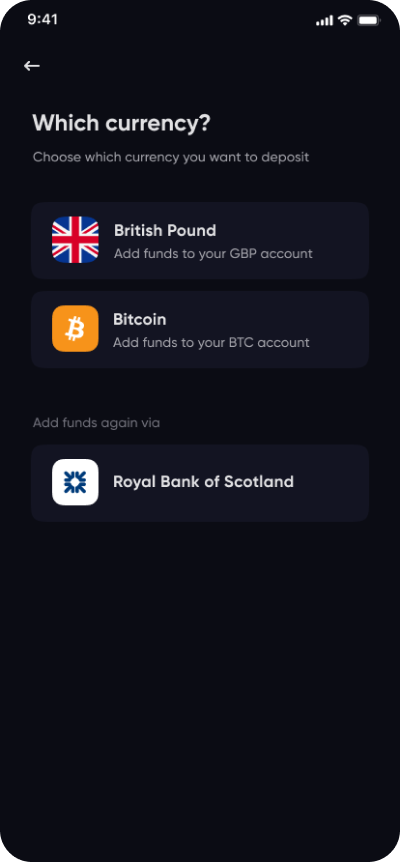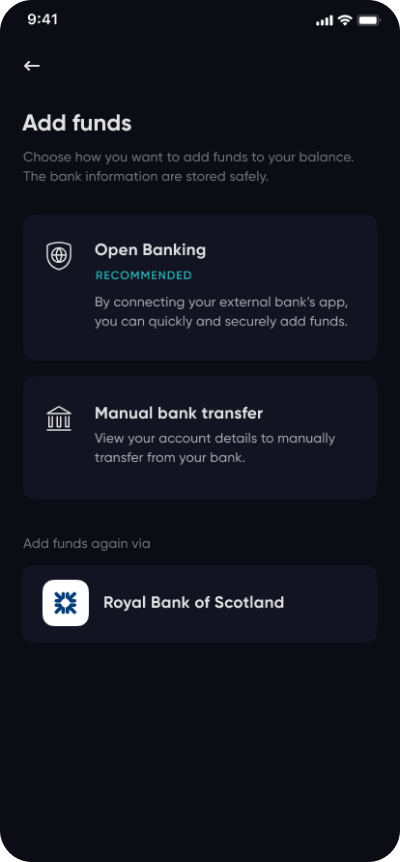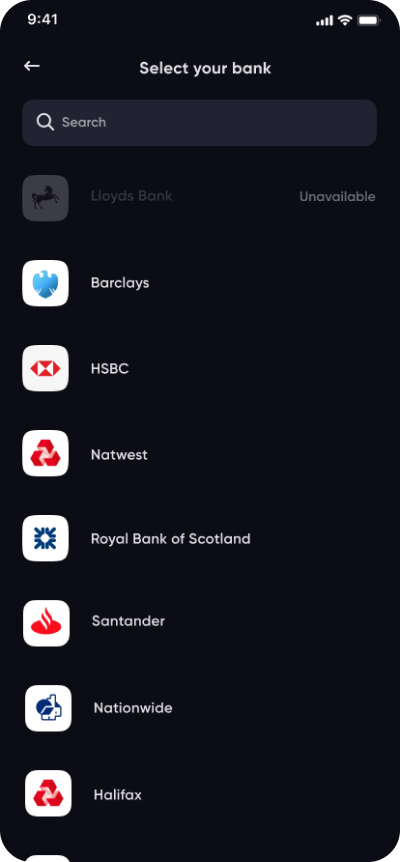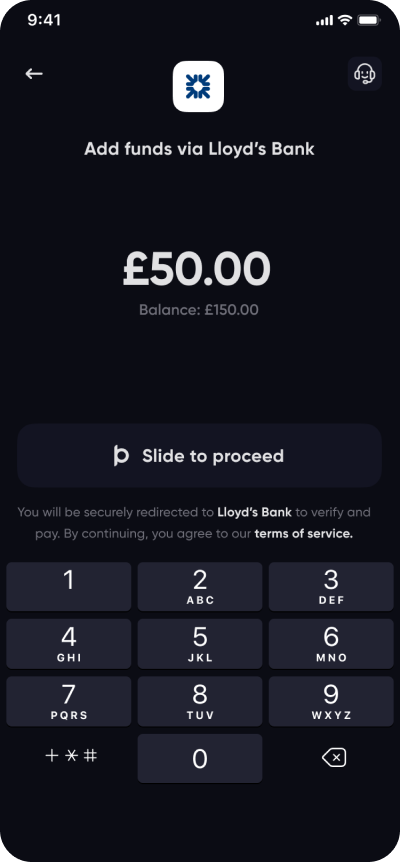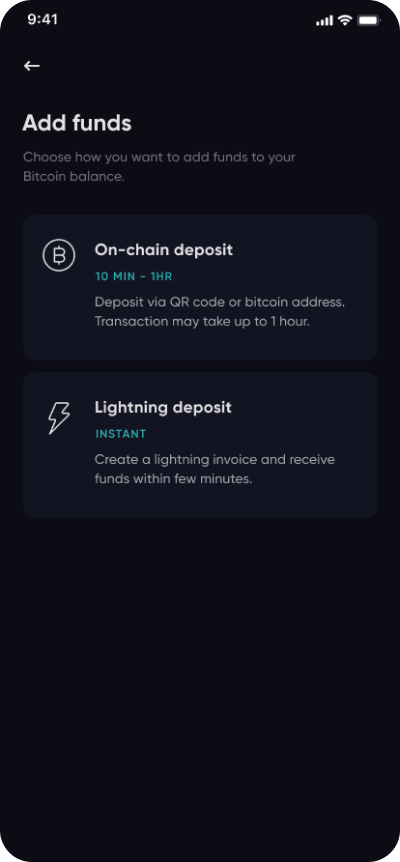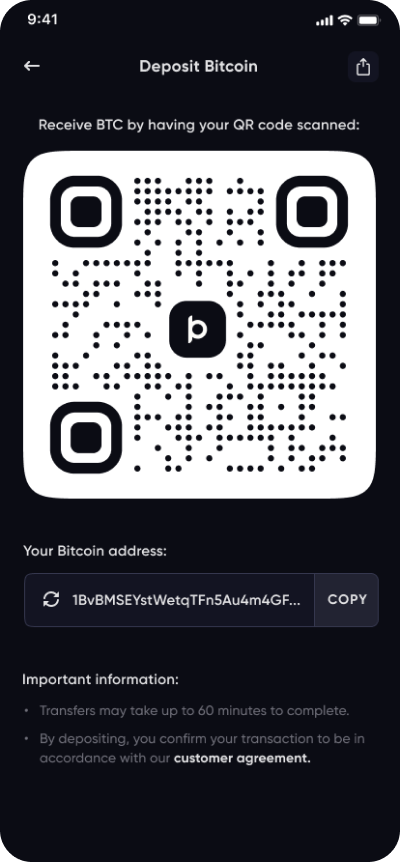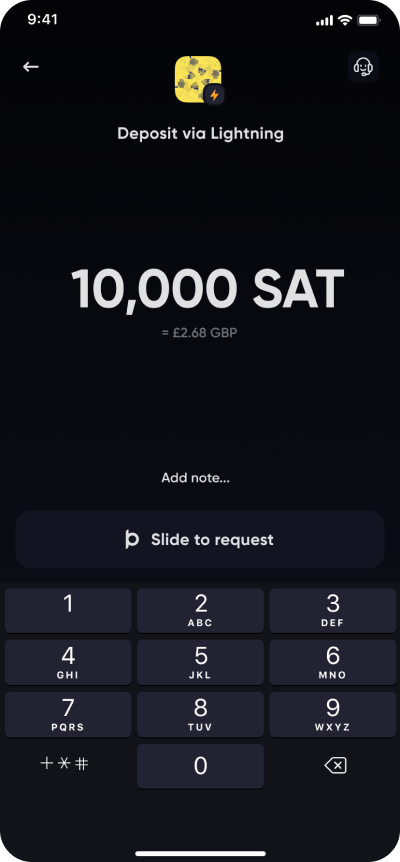 Note that if you choose to deposit bitcoin on-chain, the transactions may take up to 1 hour. If you choose to deposit via Lightning you can receive funds instantly.
Referring friends
You can't send payments with gifs to yourself, right? So, the next step is getting your friends on Bottlepay.
Each user will have a unique referral code to easily share with friends. Once your friend verifies their account, they need to make a single deposit of £10 or €10 and trade it into bitcoin. It's as easy as that.
There are two ways to invite your friends:
Tap INVITE a friend button in your profile or settings area and then tap SHARE.

Sync your contacts and multi-select any non-bottlepay friend.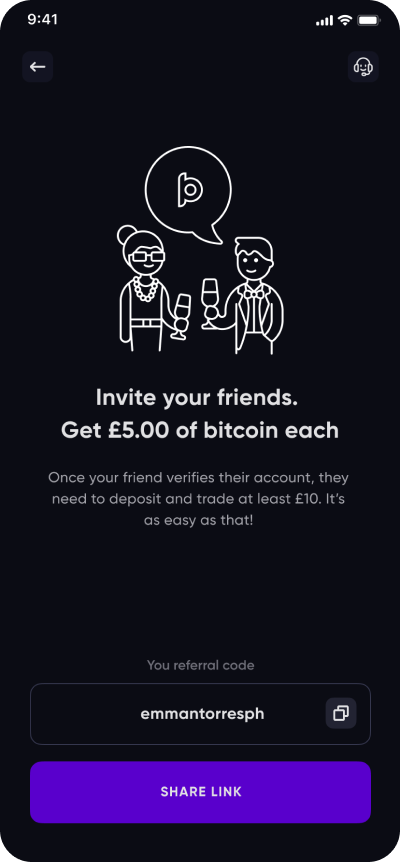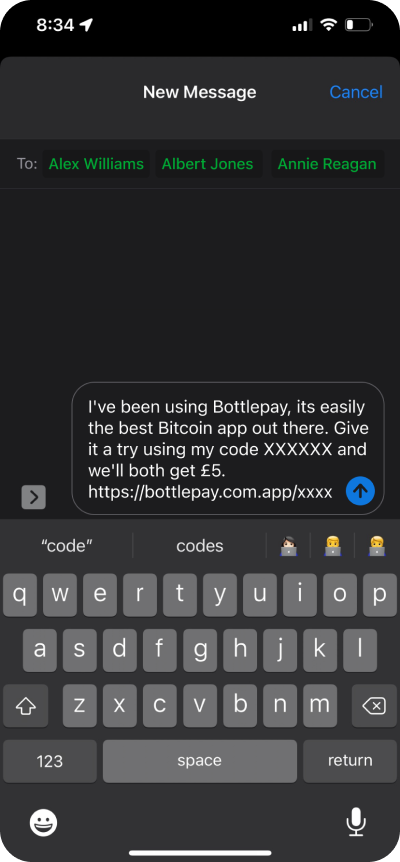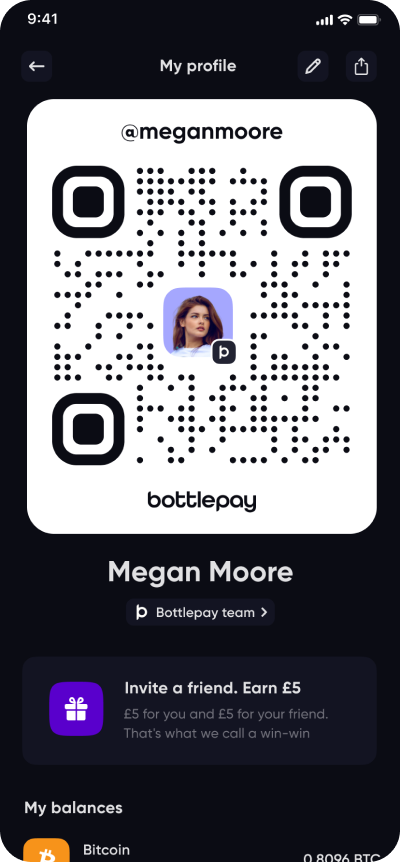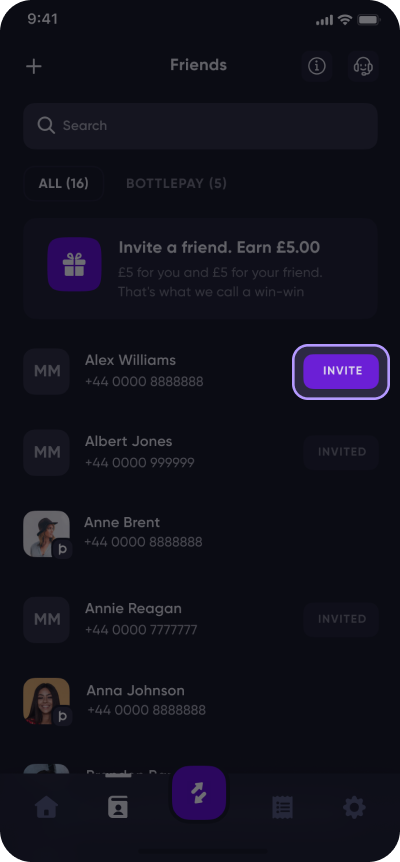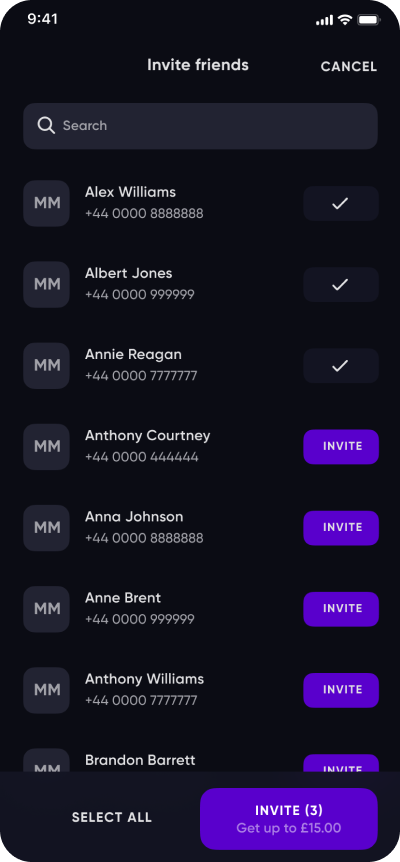 Buying Bitcoin
If you deposited fiat currency, now is a great time to explore buying bitcoin.
By tapping on the TRADE button on the home screen, you'll have the option to do a one-time purchase, or set up a recurring trade.
For recurring trades (also called dollar-cost averaging, or DCA), just specify an amount and frequency (hourly, daily, weekly, or monthly) and the trades will happen automatically. Please note, your account must be funded for the recurring trade to go through but if it's not don't worry, it'll just keep skipping to the next trade until your account is funded again.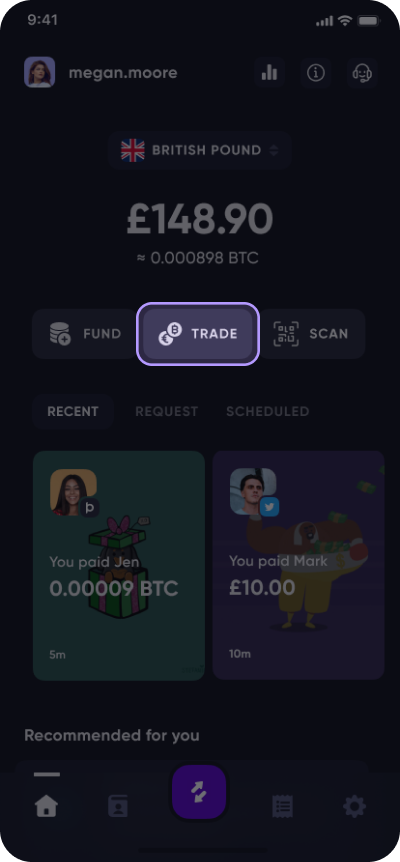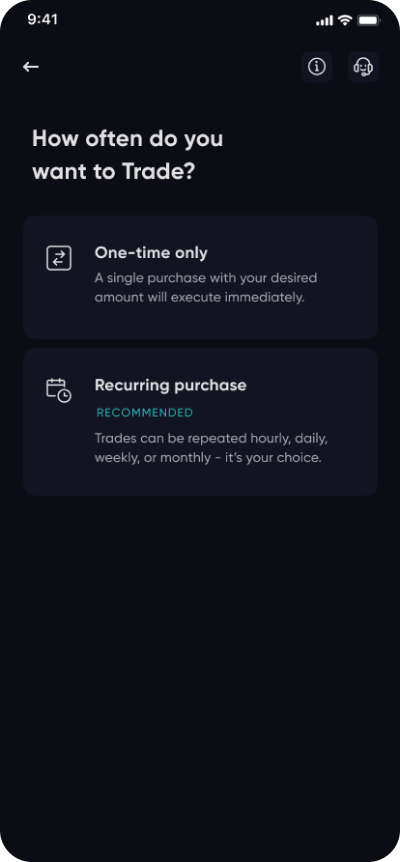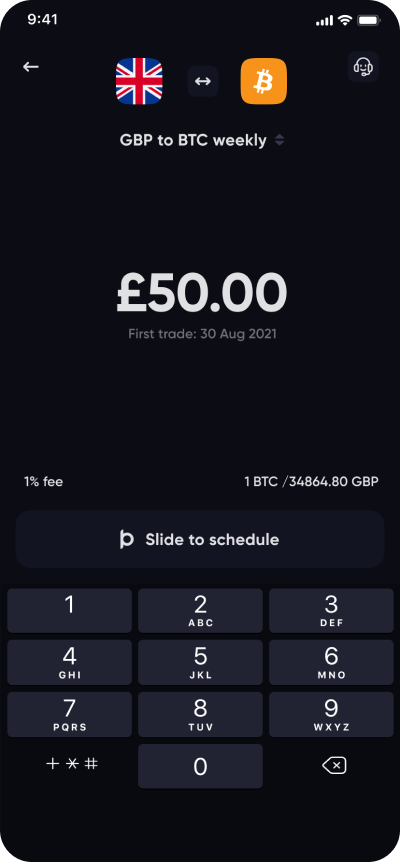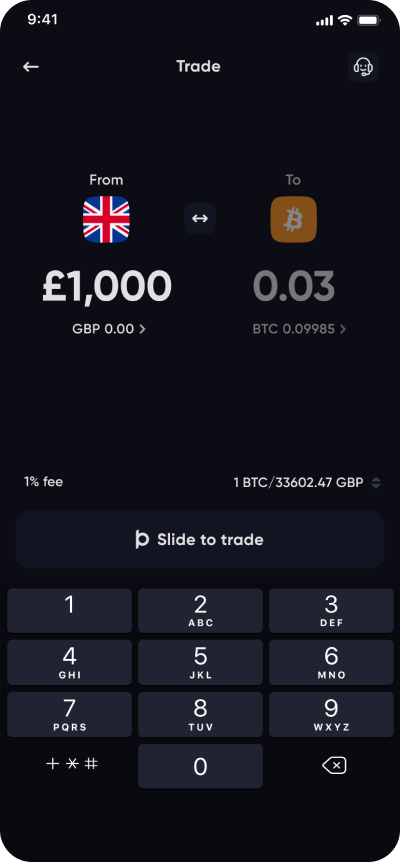 Sending Funds
Now that you have both fiat and bitcoin, you can finally send funds and make bitcoin payments.
From the contacts list, you can send funds in a few quick taps. Choose a friend from your list, enter the amount and currency that you want to send and voila, it's on its way.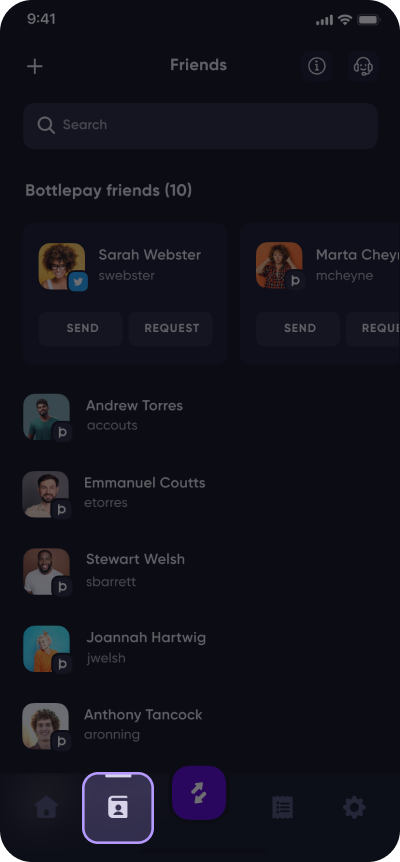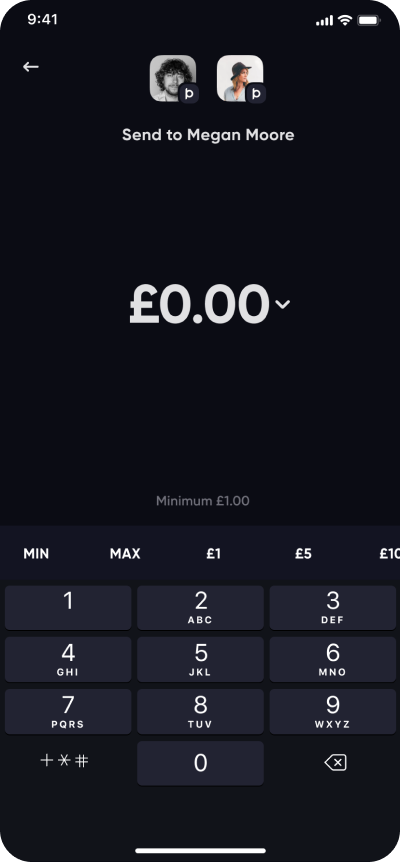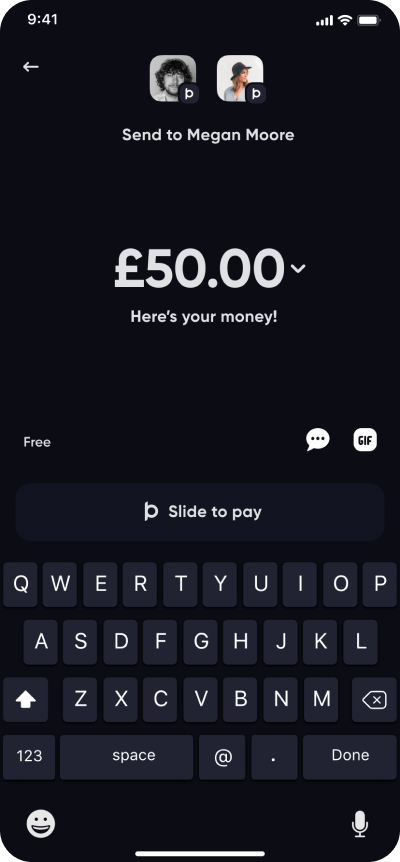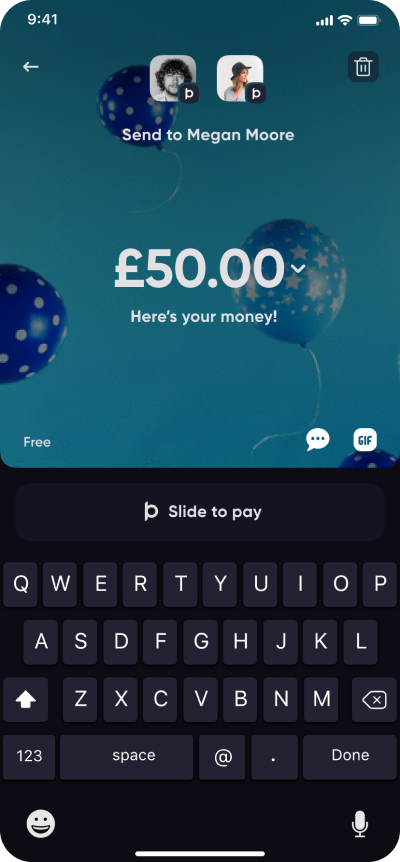 If you want to withdraw bitcoin or you find yourself in front of a QR code (usually for bitcoin payments), you can just tap the SCAN button from the home screen.
Receiving Funds
Sending is great, but what about receiving?
Same process. Just select a friend from your list and request any amount you want from them.
If you want to receive bitcoin from someone outside of Bottlepay, just tap the FUND button on the home screen, choose "Bitcoin", and select "on-chain deposit" to see your bitcoin address.
Alternatively, you can receive bitcoin instantly over the Lightning Network. Select "Lightning deposit" to create a lightning invoice or tap the "reusable lightning deposit" option to view your own reusable lightning QR code that can be shared and reused! Learn more.